Although 5 Napkin Burger locations have juicy and moist burgers, they have lots more. In fact, I found that their goat cheese salad with warm tender chicken ($7) organic baby mixed lettuce, roasted beets, toasted walnuts in balsamic vinaigrette is worth the trip alone.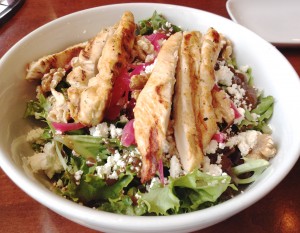 Each month, 5 Napkin Burger offers a special burger and drink, so be sure to ask what's offered the month you go. This month there's a Cheddar chili burger (ground beef topped with beef chili, red onions, cilantro, pickled jalapenos, crema, cheddar cheese with tortilla strips and barbeque fries) and a vanilla porter float (vanilla ice cream, vanilla porter, chantilly cream, grated chocolate).
In December, I was invited in to sample that month's special burger, the PTF Burger – a beef patty topped with a roasted Portobello mushroom, truffle mayo and fontina cheese accompanied by fries ($14.95) and their peppermint chocolate shake ($6) with peppermint chocolate ganache, vanilla ice cream with whipped cream topped with crushed candy canes. Both were quite tasty. Not having a shake since I was a teenager and able to handle those extra yummy calories, I share it with a friend and left most of the delicious creamy, decadent mixture with tiny pieces of chocolate ganache.
– bonnie
5 Napkin Burger
East Village
150 E 14th St
New York, NY 10003
(212) 228-5500