1500° at Eden Roc opened this past October as a farm-to-table restaurant, with a steakhouse sensibility.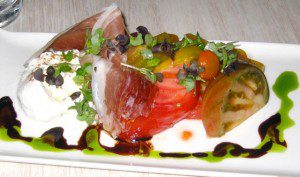 "The only thing we freeze here is the ice cream" said our attentive waiter, when describing the food's freshness. Chef Paula DaSilva (Fort Lauderdale's acclaimed 3030 Ocean and a finalist on Fox TV's Hell's Kitchen,) uses ingredients as local as possible, even including some from her hotel garden, with simple preparations.
I started with a a glass of Argyle '07 pinot noir from Oregon ($16) to accompany the many small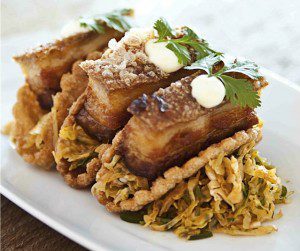 plates we sampled. These included roasted baby red and golden beets served with Hani's labneh goat cheese, marcona almonds ($8); Homestead tomatoes with local burrata, speck, Minus 8 vinegar ($15); the signature roasted halved Brussels spouts with creme fraiche and whol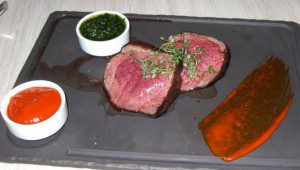 e-grain mustard sauce ($6);  grilled shoshito peppers and the other signature pork belly tacos in wonton skin with homemade kimchee and lemon aioli ($7), the latter are worth the restaurant visit.
Next I ordered a glass of the Spanish Termes Numanthia '08 from Toro ($19) to go with the 10-ounce prime top sirloin "picanha" ($27). It's the chef's favorit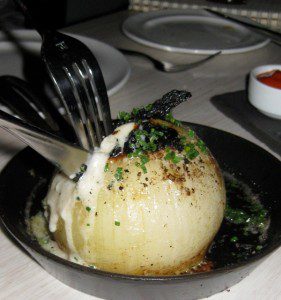 e cut from her birthplace Brazil. The meat has a fatty cap, which bastes the meat at the fat melts. She sears the meat under the 1500° broiler (hence the restaurant name) then finishes in the oven. You have a pick your sauces or butter – we chose chimichurri (as it was a Brazilian cut) and piquillos pepper chutney ($2 each).
The disappointment of the night was another signature dish – a Vidalia onion stuffed with a  potato gratin ($12). To make it, the chef hollowed out the entire onion hollowed then built a potato Gruyère gratin inside and baked it. Sadly, the night we were there it was overcooked at too high a temperature as the cheese separated (AKA synereses) so it was tasty but greasy.
We ended with a warm Valrhona chocolate cake topped with chopped hazelnuts and a creamy Tahitian vanilla ice cream and espresso.
– bonnie
1500°
(at Eden Roc)
4525 Collins Avenue
Miami Beach, FL 33140
(305) 674-5594
www.1500degreesmiami.com