In the mood for Mexican, my friend suggested we head to Sueños in Chelsea, having been there many times before. I loved the setting, sitting along side an internal window with an outdoor garden visible from our table.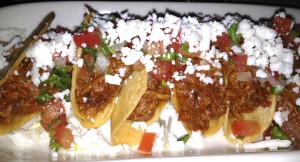 This time we skipped Margaritas, opting to share a bottle of Chilean Sauvignon Blanc Punta Final, 2009, Casablanca Valley ($35)
Although we arrived just before the cut off of 7pm for their prix-fixe, three-course, $30 menu and took advantage of it, I'd recommend instead just ordering from the menu.
They certainly tickled our palate with an amuse bouche of thin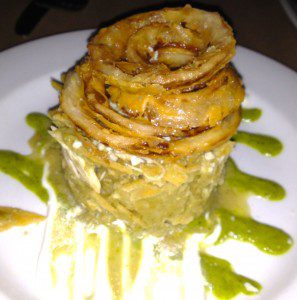 wedges of corn bread served with a bowl of anise spiked black beans, topped with sour cream and scallions. Scrumptious.
To supplement the three-courses we added guacamole for one with fresh chips ($7) that's more than enough to share — but quite bland needing salt or a jalapeno or cilantro kick. That is served with fresh chips ($7.)
The six shredded beef mini tacos are topped with queso cotija & pico de gallo for a hearty serving. What's not to be missed are the chicken chilaquiles in the unusual presentation over a salsa verde cruda and topped with a crispy pile of onions rings ($10).
The pork carnitas served with rice black beans and pico de gallo was too dry to enjoy without the missing pico de gallo.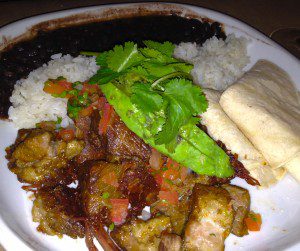 I often skip dessert but since it was on the prefix, we decided to order. We chose the guava and cream cheese empanadas, as the waiter explained that it was the chef's grandmothers recipe  consisting of  two warm turnovers filled with sweet mascarpone cheese and guava served over a mango puree and finished with a mezcal whipped cream. Sadly the dessert's dough tasted gummy, tasting like unrisen Pepperidge Farm puff pasty. The story was better.
– bonnie
Sueños
311 W 17th St
New York, NY 10011
(347) 706-1602
suenosnyc.com