October is National Pizza Month, and what better place to celebrate than New Haven, CT, the birthplace of the first American pizza slice. The first slice is purported to have been served in 1925 at the famed Frank Pepe's Pizzeria, and since then, New Haven has become known as an authority on pizza, with a number of shops throughout the downtown area. In addition to tasting New Haven's famous thin crust pizza, visitors can also experience unique menu items and specials at New Haven restaurants this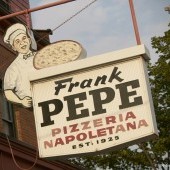 month.
National Pizza Month specials include:
Kitchen ZINC: In celebration of National Pizza Month, Kitchen ZINC is holding Weekly Pie Fights throughout the month of October. Each week, two of Kitchen ZINC's pizzas will be posted on their Facebook page for fans to vote for their favorite. Voting will take place Tuesday through Thursday, and the winner of the Pie Fight will be announced each Monday. The winning pizza will be offered at a 50% discount that night.
BAR: This local hot spot serves up traditional New Haven style thin crust brick oven pizza, salads and beer at affordable prices. Every Tuesday starting at 5pm, chef and founder of Caseus Fromagerie & Bistro, Jason Sobocinski, makes specialty pizza using his high-end cheese. Specialty pies include Sheep's Milk Feta with Shrimp and Spinach, Bucheron with Local Heirloom Tomatoes and Local Swiss Chard, Fontina Val D'Aosta with Bacon and even Mac n' Cheese Pizza with sliced Hummel Hot Dogs.
116 Crown: Perfect for National Pizza Month, guests can enjoy pizzette dishes such as the Mirtillo, made with ricotta, tallegio, parmigiano reggiano, mozzarella and blueberry compote, or the Oceano, made with avocado, jalapeno, cilantro, red onion, bacon, mozzarella and rare tuna.