Harlem EatUp! is a new festival celebrating the food, culture and spirit of Harlem on Thursday May 14th through Sunday May 17th, representing the renewed spirit of the area while paying homage to its roots.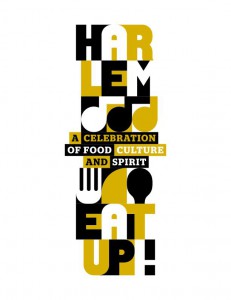 A variety of events will be held throughout the weekend featuring nationally and locally renowned artists from the culinary, fine arts and performing arts worlds. As part of its mission and dedication to Harlem, net proceeds from ticket sales will benefit Citymeals-on-Wheels and Harlem Park to Park.
On Friday, "Dine In Harlem" will pair Harlem chefs and restaurants (including The Cecil, Streetbird, Jin Ramen, Vinatería) with national chefs who have ties to Harlem (including Carla Hall, Jonathan Waxman, Sean Brock, Paul Qui) preparing multi-course dinners. Each dinner will highlight local performing and fine artists.
On Saturday, "The Stroll" will include The Avenue (artisanal market of specialty foods and culinary demonstrations), The Experience (local artists and restaurants with tastings), and Harlem Talks (tastemakers discussing food, culture, business and the arts).
Closing out the festival, "A Sunday Afternoon in Harlem" will feature restaurants selling a la carte foods, tasting tents, music and more.
For more information click here.
Guest contributor