Bonnie: "Rule the kitchen with this new Ninja Master Prep," boasts the makers of this new kitchen appliance.
They claim that this under-$50 Ninja could dice more evenly than my expensive food processor and chop ice better than blenders.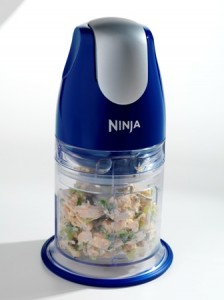 "Skeptical," is an understatement.
So, when asked, I agreed...
Bryan: Ok, so I'm not going to lie. I definitely felt a little twinge of "infomercial" when first seeing my Ninja Master Prep. I mean, it slices, it dices… Don't look at it the wrong way or it'll kick your a$$! I heard the voice of kitchen gadget guru, Ron Popeil echoing in my head: "It'll solve all your kitchen needs," he whispered. "But I've heard that all before," I answered.
Could it be true this...
Eric: To explain this in modern written language, OMG this product is not a WTF. The Ninja, or as I like to refer to it, "the little infomercial product that could," is an appliance designed for the modern kitchen as well as for the fast-paced lifestyle many of us live. Similar to its infomercial nemesis, "The...
You can now follow Bonnie on Twitter: BonnieBOTB