Capsouto Freres, the French bistro in Tribeca is one of those places with no gimmicks, pure good made-from-scratch food.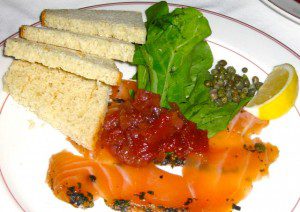 I started with their delicate gravlax (dry-cured salmon) served with confit of tomato and toast points ($); a slice of the Terrine Provencale ($12.50) with layers of smoked mozzarella, eggplant, sun-dried tomatoes, goat cheese, red and yellow peppers, homemade pasta, baked garlic and fresh herbs on a bed of balsamic vinegar; and the sausage en croute accompanied a green lentil salad.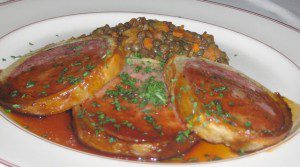 We selected some entrees from the day's specials – tender, light Pike Quenelles Nantua ($24) that almost melted in my mouth, a Bouillabaisse made with cod, mussels, clams, shrimp and scallops ($26) and an exquisite Filet of Sole Meuniere ($24.50).
Although stuffed we were nudges into sampling some desserts and so glad we did.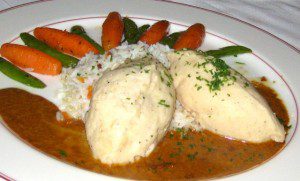 We sampled their apple tarte tatin ($9.50) and chocolate chip profiteroles with crème anglais ($9.50) and the ethereal clementine soufflé ($11.50) which alone is worth the trip.  When I dined there this delicious souffle was a special on the NY restaurant week menu — it's one that should become a regular menu addition. The refreshing citrus in the fragile egg structure was the perfect light ending to this meal.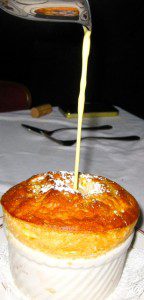 Passover Seders 2011: The restaurant will host special Sepharidic Seders on the first and second nights of Passover, April 18 and 19, 2011  with seating at communal tables and services conducted by a Cantor with a reading of the Haggadah. Jacques Capsouto donates 100 percent of the $150 dinner fee to The American Jewish Joint Distribution Committee, a Jewish worldwide charity organization helping people in need. Israeli wines will be served with the dairy and seafood meal. For more information or reservations, call 212.966.4900.
– bonnie
Capsouto Freres Bistro Restaurant
451 Washington St
New York City, NY 10013-1723
(212) 966-4900
www.capsoutofreres.com