FREEBIES
Saco Cultured Buttermilk Blend is made from real buttermilk, fresh from the dairy. This powdered buttermilk gives your baked goods a wonderful light and tender touch, only achieved by using real buttermilk. It combines convenience with nutrition by providing a shelf-stable product that is virtually fat and cholesterol free.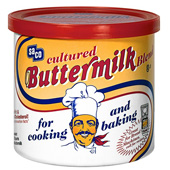 SACO real semi-sweet Chocolate CHUNKS are wonderful chunks of chocolate, versus the little chips.  The CHUNKS are real chocolate, unlike many of the chips out there today, and the shape provides for more even distribution in your baked good, so there's a bit of chocolate in every bite!
Be sure to try Saco's recipes. (Click here)
Take a chance. Each month 5 winners will be chosen at random to receive two 16-ounce canisters of SACO Cultured Buttermilk Blend and either one 10-ounce canister of SACO Premium Cocoa or one 12-ounce bag of random-cut CHUNKS of real semi-sweet chocolate; depending on availability in addition a selection of two of the following four items (A wooden spoon or a set of measuring cups,  measuring spoons or potholders); value ~$25.
Only available in the US.
You need to enter each month for a chance to win!
To enter,  just click the "Take a Chance" link — a link that you'll see only if you're signed in as a registered user.
Saco is available in the dried milk aisle of your supermarket and the Bite of the Best shop
You must be logged in to take a chance on the Marketplace deals.
159 Comments on "Win Saco Cultured Buttermilk Blend, Premium Cocoa, Chocolate Chunks"
darlenecom Says:


This makes the best biscuits and pancakes

yiayia79 Says:


Seeing that I am a chocoholic this fits me to a T

TJofVA Says:


I love this for biscuits and pancakes.

mirahana Says:


I use the buttermilk product but didn't know they made chocolate!!!

ROSEMANN Says:


I HAVE USED THIS THIS BUTTERMILK PRODUCT, WOULD LOVE TO TRY THE CHOCOLATE. GREAT PRODUCT!!

herblady Says:


These sound like products I would really use if I had them. Very nice prize package.

ladyvon5845 Says:


I love to cook and this would be great to have on hand for baking and etc.

kathy Says:


Love using this for baking bread!!

carolynishis Says:


I have use this buttermilk in my biscuits and it is great.

lucyem Says:


I use this all the time for pancakes, biscuits, mashed potatoes, dumplings etc

summerlovin22396 Says:


Hubby loves to cook and try new ingredients. This is perfect.

katstime Says:


This would be great, I seem to waste buttermilk

plmeek Says:


My head is already spinning thinking of all the things I could make!

Henrietta Says:


I love havign this on hand, I never use the whole container of buttermilk!

mirahana Says:


Have used this product for years. Would love to try the new flavors.

wendy williams Says:


I can't wait to try the recipes

Hotsnotty2 Says:


I would love to make biscuits, thanks!

shamac1050 Says:


Biscuits and pancakes would be delicious!

silanti Says:


Baking season is almost here. Biscuits hot from the oven. Yum.

kathy Says:


Love using this in baking my whole wheat bread!

Kim Forni Says:


A wonderful alternative if there is no liquid buttermilk on hand. Also, a little FYI, after opening, this has to be refrigerated. ( i didn't know when i first started purchasing)

Carole S Says:


I'd love to try these products.

Robertalee Says:


Is there any way to make tasty fried chicken without first soaking it in buttermilk? If so, it probably would only taste second rate. I'm already getting my apron ready to make cookies with that chocolate prize.

eljefe Says:


i want to try this

kathy Says:


This just a wonderful way to add the zip of buttermilk!

Jaclyn Wenner Says:


Have never tried this product. It sounds wonderful

yiayia79 Says:


Makes yummy biscuits

Suekey Says:


With this product I could always have buttermilk on hand for those recipes that I want to try.

ARLENE FROOMAN Says:


i LIKED THE BUTTERMILK AND AM CURIOUS ABT THE CHOCOLATE

gramonfarm Says:


Oh, MY Gosh! I use to use this all the time but have a hard time finding it now.

jeniferluce Says:


The cocoa is the best! I order it by the case and refuse to use Hershey's or Nestle's after seeing and tasting the difference. My recipe website… http://www.jenifer.luce.us

tinkerbell Says:


I have never used this product. I love to make buttermilk biscuts and think the product would taste wonderful.

misslilad Says:


sounds great

marniesfears Says:


This product is very good and does not take up room in the refrigerator.

snowlover09 Says:


I already use this product and I love it. Baking has never been so easy.

kathy Says:


I would love to try the chocolate products!

susitravl Says:


The oyster cracker snack traditionally made with ranch dressing is SO MUCH BETTER when you use SACO buttermilk and dill.

sarasandy Says:


I love the Saco buttermilk and my can is almost empty. Makes great biscuits, ranch dressing, etc. Please enter me.

Bonnie from BiteoftheBest.com Says:


Sarasandy, as long as you are a registered user of BiteoftheBest.com just click on "take a chance" to enter

cher48603 Says:


I always have the buttermilk blend in my fridge. I didn't know about the other products. I'll have to look for them.

carolynishis Says:


I love using this when i bake biscuits.My husband keeps all the buttermilk in his belly.Can't keep it around here.

cher48603 Says:


This is so convenient to use. I have buttermilk whenever I need it.

weeziestoy Says:


Good Morning….I just received an email informing me that I won two 16-ounce canisters of SACO Cultured Buttermilk Blend and on 10-ounce canister of SACO Premium Cocoa….I am so excited to have won this….I have not tried their products before….Will keep you posted…Again Thanks

snowlover09 Says:


I would love to win this prize, I have a cookie recipe that uses buttermilk and I always have to run out and buy some when I feel like baking.

kathy Says:


Really enjoy using this product!!1

bobbin52 Says:


From someone who rarely keeps buttermilk on hand but loves to cook with it, this is the coolest thing!

ladyvon5845 Says:


I won this last month and it is a great product. One that I will always have in my home from now on.

suzzie61 Says:


This has become a staple at my house. I don't get without it.

awilson57 Says:


I've never tried this, thanks for the contest!

Bonnie from BiteoftheBest.com Says:


You're quite welcome! Be sure to take a chance to win some EACH MONTH, as this is a monthly contest! And click on our new "like" button to let your Facebook friends know you like this! Thanks..

jagwire09 Says:


This is a great product! My family loves it! Thanks for yet another great giveaway!

tjnjtown Says:


Is it gluten free?

Ann Smith Says:


We are also pleased to inform you that all products in the Saco Foods line are gluten free, in addition our products and facility are peanut and tree nut free.

Ann Smith Says:


This is a very exciting time for us at Saco Foods! We recently launched our newly updated website, and our Dolci frutta will be featured in a segment of the Balancing Act, on Lifetime television, which airs on February 4th and 25th, between 7-8:00 am, EST.
Upon completion our web site, http://www.sacofoods.com will provide a wide variety of information about our company and our products. Our recipe section will contain over 500 of recipes that have been submitted by State Fair Contest Winners, consumers and our own favorites. There is a place for consumers to submit recipes and any questions or comments. The recipe section will allow users to search for particular recipes by type or by product. Another highly anticipated update will be the addition of a store locator so consumers will be able to find our products in their areas. These updates and changes are occurring in stages and will be ongoing.

billnsara41 Says:


How long can Saco Buttermilk Blend be kept in the regrigerator……sealed in a glass jar??????

Are there any recipes for waffles (whole wheat, preferably) using Saco?

Ann Smith Says:


The shelf life of our Cultured Buttermilk Blend depends on when the container is opened and how well it is kept from any source of moisture. An unopened container or envelope of the Cultured Buttermilk Blend has an indefinite shelf life as long as it is kept free from moisture. We have recently begun coding our product with a suggested "Best if Used By Date" as a guide for consumers with concerns. However, it is only a suggestion and moisture exposure will still shorten the time.

Once opened, it should be stored in the refrigerator. There it can last for several years. You will always be the best judge by simply looking at the product. If it is still in a powder form, it is good to use. If there are lumps that break up into powder, they are fine to use as well. If there are lumps that do not break up when touched, they should be sifted out. If the entire canister has hardened, some people have had success with using a food processor to pulverize the product back into a powder form. It would never be harmful or unsafe to use however; we do not guarantee the product will work as well as if it had not been hardened.

Our website currently has over 400 recipes using products from our line. I am sure you will find a waffle recipe that you will enjoy. Be sure to check out the Whole Wheat Quick Mix recipe, too!

billnsara41 Says:


Thanks for the quick response on the shelf life of the Cultured Buttermilk Blend. I have some that's been in the refrigerator over a year and is still good. I found the recipe for the Whole Wheat Quick Mix for Waffles and will be trying it soon.

margectoo Says:


Have been using the buttermilk for many many years and love the convenience of having this on hand whenever a recipe calls for it. Do not keep fresh buttermilk on hand as noone in the house cares for it

Suzanne Williams Says:


I keep a can of this in my pantry at all times. I can't live without it!!

pwdeb Says:


I haven't used this product for a while simply because between the time I see it used in a recipe and then later see my shopping list, I've forgotten that I want to add it.

kathy Says:


Love the buttermilk and would like to try the chocolate!

mombert5 Says:


I was very lucky to win from this site last month two containers of the buttermilk and a canister of the cocoa I was so happy to try it out First thing I made was biscuits they were fantastic! and then I made brownies YUM thank you so much I love having the buttermilk like this ,the stuff from the dairy case anymore is outragious like everything else these days thanks again!

char1127 Says:


Thank you!!! I was one of your winner and received the package with 2 containers of Buttermilk and 1 container of Cocoa Powder and a Apron. Since I had not read my email for a few days, it surprised me when I seen UPS stopping in front of my house since I wasn't expecting anything. I have used your Buttermilk and had it on my list to pick up another container when I went shopping again. It was nice to also get all the recipes in the box. I have since tried the waffle recipe (my grandchildren love it, I have now had to make them waffles every morning for the last week). I will never buy another box of instant pancake or waffle mix again. I will be trying some of the other recipes soon. Again, thank you!!!!

vbeetle Says:


I have a use for these great products so hope to win.

cubhill Says:


All these products seems like something I could use and like.

tawnda Says:


this makes it incredibly easy and affordable to make all those 'hey… I'm in the mood for…'recipes…

rebeccamarbas Says:


would love to win this and try it out

christinaalmond Says:


Sweet! Would be great for cooking and baking!

chere bork Says:


I have used Saco Buttermilk all my cooking life and it is a staple like milk in my fridge..how old is Saco Buttermilk?

kiwicat Says:


I have a pound cake that I love, but don't make it that often because I never want to buy the carton of buttermilk which seems to go to waste after using a cup. This would be perfect.

steve risberg Says:


Thank you so much!! I won the Cultured Buttermilk!! IT MAKES THE BEST PANCAKES EVER!!! AWESOME

BEVERLY COIL Says:


I LOVE CHOCOLATE…When I feel a little down I have something chocolate..Who doesnt Love anything CHOCOLATE..

msgulfkat Says:


I use the buttermilk for corn bread and it makes for a soft tender bite. Hope to win some chocolate chunks also, I could bake some bars.

susitravl Says:


Saco makes cocoa!! I'll be looking for that on my next trip to the store, even though it's 110 degrees here.

jancarr51 Says:


good for recipes when fresh buttermilk isn't available

klbs1 Says:


I can't wait to use this buttermilk in recipes!

blondie54 Says:


Thanks again for the prize! I have used the buttermilk powder in home baked breads and it's great.

christine24 Says:


I received the buttermilk, cocoa, apron and recipes. I made the Applesauce Buttermilk Bars and it was delicious!

Ann Smith Says:


Thank you for your email and for your interest in Saco Foods products.

It is nice when someone will take the time to contact us, simply to thank us for their prize package and tell us how much they enjoy our products. We are here to make products that consumers enjoy, and it's nice to know we're doing our job! We would like to invite you to visit our web site, http://www.sacofoods.com . It gives some great ideas.

If you ever have any questions or comments, please don't hesitate to let us know. Thank you, again, for taking the time to write.

Gail Runge Says:


Thanks so much for the prizes sent to me! My husband is waiting anxiously for his buttermilk biscuits! I can't wait to try the cocoa & my husband thinks I have needed an apron like that for years! I have & I love the adjustable neck strap. Thank You!!!

JustJoe Says:


I always keep a package in the fridge, for some reason there's not much fresh buttermilk around this part of ct.this I can add to the flour in my favorite sourdough bread for a little extra bite. Great in bisquits or as an overnight soak for my chicken

jennifer57 Says:


sounds good!

silanti Says:


Just bought this yesterday. Need to keep in my pantry for homemade ranch dressing, fried chicken, biscuits.

Anjanettesflavor Says:


Holiday baking is just around the corner and these are the perfect ingredients for that!

Sandy B. Says:


I'm very excited that I've won the Cultered Buttermilk Blend and the Premium Cocoa. I can't wait to do some baking with those.
Thank you so much.

Natalie J Vandenberghe Says:


Thank you very much for the fabulous prize package. I've used and loved your products for many years and was glad to receive this in time for more holiday baking. I'm also very proud to be wearing my new "Bake Your Best with Saco" apron–I love it!

JustJoe Says:


Have been unfortunately unable to get fresh buttermilk here in CT as often as I would like, however I always keep a container of the dehydrated buttermilk it reconstitution to very acceptable Buttermilk substitute, flavor is as good and more consistent the bottled.

Sandy B. Says:


I recieved the canisters of powdered buttermilk and the premium Cocoa that I recently won.
The first thing I made was cocoa. Absolutely delicious.
After that I made buttermilk pancakes; the best pancakes that I've had in so long. This is what pancakes should taste like.
Then my husband made some buttermilk biscuits and they were also delicious.
I'm very grateful to have won and been given the opportunity to try these wonderful products.

sweetjudyblue Says:


Oh my mouth is watering, I have never used this product. I will search for it.

Cynthia Says:


Thank you for the wonderful prize. I finally tried the powdered buttermilk. I used the recipe for "Blue Ribbon Waffles" from the Saco site and they were the best waffles I ever made. I have been using Saco cocoa powder for years. I love to drink mochas, so I use the cocoa to make my own chocolate syrup. It tastes so much better than store bought syrups and I don't have to worry about high fructose corn syrup or other questionable ingredients.

Carol Says:


Fabulous prize package. I can't wait to use these products.

ocanana Says:


Great pantry items, on my must have list.

egood33 Says:


I would love to try this!

JustJoe Says:


Premixed the buttermilk with my flour ,leavening and salt and make my own pancake flour mix.Much cheaper than purchased mix and I can use whole grain flours.

Jan Tinsman Says:


I was so surprized to win the Saco buttermilk and cocoa. I am having fun making some of the recipes. The biscuits are fantastic! Thank you so much for a great product.

Kiwicat Says:


Buttermilk biscuits and sausage gravy! Doesn't get much better than that.

Carole Says:


I received 2 containers of the Buttermilk blend and 1 of the Dutch chocolate on Christmas Eve and the timing could not have been better. I had people visiting that love to cook and we had pancakes the morning after Christmas made with your low fat low cholestrol buttermilk blend. Everyone enjoyed breakfast so much. A couple of days later my daughter made Dutch chocolate cookies that must have been very delicious because they were all gone when I got home that evening. There are so many uses for this product that I had not realized until we started using it.

Meryl Says:


This sounds great!

Natalie J Vandenberghe Says:


I tried a new recipe today that called for buttermilk. I used Saco Cultured Buttermilk Blend and, not only was it easy to use, the cake was delicious! Thank you again.

carolynishis Says:


Awesome products!

Carolyn S. Says:


Made buttermilk pecan waffles this past weekend with my prize! They came out so good and yummy. Can't wait to try biscuits. Thank you!!!

JustJoe Says:


Always keep on hand…somehow buttermilk in Connecticut just dosn't cut it.

Carole & Andrea A. Says:


I won the "Bite Of the Best" contest (in December) and we enjoyed it so much that I ordered 3 more containers of the buttermilk blend. I got my order today. I have used it in many recipes and love it.

Laurel48 Says:


Saco Cultured Buttermilk is a great product with so many uses. Any product that you can have on hand that is the basis for so many recipies, is well worth it. The more products I can have that keep on the shelf, in the fridge, freezer or canned, the better I feel. Living on disability and in the economy we're in, definitely encourages me to use products that are healthy, versatile and long lasting. To Gramonfarm, this product can be found at Hannafords and I think Price Chopper too.

Ann Says:


Where to Locate our Products:
Our website continues to be updated with new features.
We recently added a product locator at http://www.sacofoods.com. It has the most current listings of where our products can be found throughout the United States. It is divided by regions of the country and further shows which stores are carried by various stores in that region. The products listed are available to the stores listed however, each store manager makes his or her own purchasing decisions about what they choose to order for their locations. Please feel free to ask the manager if you are having difficulty finding a product listed as available on our website.

1. Go to http://www.sacofoods.com.
2. Click on LOCATE PRODUCT.
3. Click on the PRODUCT you are attempting to locate.
4. Highlight and Click on the STATE that you live in, or where you are attempting to locate a product.
5. Scroll down and you will see a list of stores, by state that currently stock that item. Each store manager still makes his or her own purchasing decisions, however if the product is listed on this site – it is available for them to place an order.

Meryl Says:


I won the Saco giveaway, and just tried the cocoa powder in some hot chocolate. It's delicious, deep and round! The problem is, I can't find it in NC. Amazon sells it, but only in large amounts, ie, 12 canisters! Is there any other online source where I can buy it in smaller quantities?

Sandy GR Says:


Was thrilled to receive these wonderful products. I haven't tried the cocoa yet but since I usually mix different types of cocoa for baking that it will be great.

bobbin52 Says:


Use this in my cookies.

Jennifer Sitz Says:


Thank you very much. This is awesome.

JustJoe Says:


I never not have a box of the buttermilk on hand, finding local fresh buttermilk is a nightmare in CT shoreline, and when you do find it it goes bad before you can use it all. This stuff is a life saver, use straight up with water as buttermilk, add some of the powder in place of dry white milk powder for a fine crumb and extra flavor in sourdough bread recipes, even adds umph to Bisquick for dumplings.

Christie Says:


I opened a container of Saco Cultured Buttermilk a couple of months ago. I failed to refrigerate the product. Is the product ok to use?

kimnelson Says:


I just received my prize and can't tell ypu how excited I am . Thank you so much. The buttermilk is great for making banana bread.

greco5 Says:


I would love to win this prize!

Carole A. Says:


I have many recipes in which I use buttermilk, I look forward to trying this product out.

Linda Palmer Says:


I received my prize today of the SACO Buttermilk Blend and the SACO premium Baking Cocoa. I will be trying recipes starting tomorrow. Can't wait to try the crepes and the Chocolate Buttermilk Cake. Will let ya'll know how they turn out.

Cook2day Says:


I have a canister of buttermilk on hand and use it often, For instance I baked coffeecake yesterday and am marinating chicken in it for dinner tonight.

oui309 Says:


hi, iwon!!!! i won 2 canisters of the buttermilk and 1 of the cocoa. I made biscuits with the recipes that came with it and wow,so soft and delicious.can't wait to try more of the recipes..thanks for offering great prizes and letting the people know about your products. thanks,thanks,and thanks.

JustJoe Says:


Diabetic <- make most things whole grain, mix buttermilk powder, with unbleached white whole wheat flour, baking powder, baking soda and a little salt. When ready just add your egg, milk and flavorings (sugar or berrys, pecans etc)
great stuff!

whidone Says:


I just received my prize of SACO Buttermilk and Cocoa. How nice to also have received a set of measuring spoons and measuring cups, a great unexpected extra. Also a set of recipes came…thanks so much
LD Wernet

cubhill Says:


Would love to try it in my cookie recipes.

drydock54321 Says:


Thank you for the prize. I received the SACO Buttermilk and Premium Cocoa. Also a Saco foods potholder, a big wooden spoon, along with lots of recipes. I heard that the potholder and wooden spoon are newly created promotional items and they are great additions. I immediately used the recipe given on the cannister and made brownies and they are delicious. Next up pancakes.

Theresa Prince Says:


Thank you so much for the great prize. We use buttermilk in cooking so this was great. We;ve made the pancakes-they were delicious and next up is the buttermilk chocolate cake. Along with the buttermilk and cocoa mix I received a great group of recipes, a neat all in one measuring spoon and a set of measuring cups. Hadn't expected those but certainly appreciate them- never have too many. Again, thank you so much for the great prize

tinabonnell Says:


I love this…it is so conveint to have on hand. Love how I can use it with my Angel Biscuit recipe…love how they turn out!

Josephine Greco Says:


Great prize!

Joanne Bernard Says:


I use SACO Buttermilk when I make my yummie muffins.

Barbara Says:


I've used this and it is wonderful, I can make buttermilk pancakes and not worry about it going bad.

cubhill Says:


just what I need to make my Christmas cookies

greco5 Says:


Would love to win this prize.

Betty Ramsey Says:


Thank you for the win. I have several friends who love to bake and I will share my good fortune with them. Powdered buttermild is a great idea.

mikeline skibsted Says:


I won a Saco contest. I've used the Buttermilk for years; it makes the BEST pancakes. I will be using the coco powder this month with my Christmas baking. Thank You for such Quality Products.

oui309 Says:


won this before and ran out,would love to win again,thanks

Bonnie from BiteoftheBest.com Says:


So sorry oui309 — but the first of our contest rules states:

"Each contest is open to the registered users of BOTB, excluding previous winners of the sponsor's contest on BOTB. In other words, you may not win a sponsor's contest more than once."

clemmon Says:


I was so surprised to win this package! The wooden spoon is thick and good quality. The hot pad works great on even baking pans at 450 F. I used the cultured buttermilk to make biscuits and they were pretty good considering it was my first time making biscuits. Can't wait to try pancakes this weekend! Thanks again!

Gardenancy Says:


Pancakes are great with this product!Yum!

mthgsyc Says:


For ice cream

drmrs Says:


This is the kind of product I need to put a smile on my face for the New Year! drmrs 1/10/2013 P.S.-Perhaps I can put a smile on the face of others also, if I ever learn how to cook properly!

leene101 Says:


I love your products. I use them in baking and salad dressings all the time. Thanks again for making me a winner. These products are time savers they are quick easy and affordable and unlike real buttermilk dont spoil in the frig in a matter of days. So they save money!

Jane Squires Says:


I do not remember receiving any prize

Assistant at Bite of the Best Says:


Jane Squires–You were NOT selected as a winner for the SACO Contest. We do, however, have record of you being randomly selecting as one (of five) winners of the September 2012 UltraGrain Contest. The UltraGrain prize was fulfilled and we will obtain tracking information and send to your personal email address that we have on file.

bigjack Says:


Makes super pancakes.

Anthony Schartner Says:


I was a winner for the Bite of the Best Contest: SACO Products this month and I have wanted to say I enjoyed using the products that I had made hot cocoa, chocolate cake that I have plans on using it more because I really love the products.

solsticechick00 Says:


I won the canisters of buttermilk and cocoa along with a potholder and wooden spoon. I have used the cocoa In the past so I already knew it made delicious treats. The buttermilk made fabulous biscuits and I look forward to trying many other recipes with it
Thanks for a great contest BiteOfTheBest!

Karri Steed Says:


Received my SACO prize package and am excited about using the excellent buttermilk powder in my recipes. The cocoa looks great too and I am excited about using that as well! I really love the smooth high quality cooking spoon and of course the pot holder will come in handy. Thanks for a great line of products and a great giveaway!

fayeb16 Says:


Oh! i was so happy to win the Buttermilk and Cocoa powders. I use the buttermilk quite a bit in my baking and was down to the bottom of the container – perfect timing. I have never used the cocoa powder – but have plans on using this weekend to make brownies. Also received a wonder wooden spoon which is almost to pretty to use. The pot holder has come in handy already. Thanks for the great give away!!!

Linda H Says:


I love using your buttermilk powder – it makes great biscuits

Yvonne Hooker Says:


I can't wait to try these I love your products.

Caroline Seidl Says:


I received Saco Buttermilk and Cocoa mixes. My family loved the pancakes I made with the buttermilk mix. It was so quick and easy. I can't wait to bake!!

Caroline Seidl Says:


I received Saco Buttermilk and Cocoa mixes. My family loved the pancakes I made with the buttermilk mix. I am waiting for our heat wave to end so I can bake with the cocoa mix!!

char1127 Says:


I was a winner quite a while ago and I have continued to use the SACO products. I have made several of their recipes and have never had a bad one yet. Thanks from a past winner and SACO keep up the good work.

Kathleen FindleyForcer Says:


I received your wonderful gifts. I have purchased SACO before and it works wonderfully. In South Carolina it gets a little hot during the summer for baking but I've got the bread maker ready for the Cultured Buttermilk Blend. The Blend gives a great flavor to breads. I'm a typical woman and I adore anything chocolate. I'm going to try some of the recipes that you included with the Premium Cocoa. When the family smells the chocolate I guess I'll have to share. Last but not least. I gave the measuring spoons and cups to my youngest son. He loves to cook and he has put them in his "I'm finally moving out of the house box." Again, great products. Thank You, Kathleen

Alex Says:


Love Saco products — be sure to make brownies with their cocoa. The best.

Gina O Says:


Thank you to SACO for the lovely prize package of cultured buttermilk and premium cocoa, measuring cups and spoons. We baked the chocolate fudge cake from the included recipes and it is exceptional! This is one of the best baking cocoas we have ever tried.

Also, I noticed SACO is located not far from where I live. I will be on the lookout for this great cocoa at my local grocery.

leene101 Says:


Thank you for the ultra flour. I do a lot of baking, muffins, cakes, and pizza. This flour will be perfect in all of them

Assistant at Bite of the Best Says:


Dear leene101. You inadvertently posted comment # 153 under the wrong section. Please re-post under the Ultragrain Flour section instead. However, if you have not yet won the SACO products prize, please be sure to enter SACO contest as well. Who knows…maybe lightning will strike twice and you will win the SACO contest as well…you never know! Best of luck!

susitravl Says:


I won this recently and LOVE everything I received. Thanks, Bite of the Best!

stupefy19 Says:


I won tis recently, and made pancakes with the buttermilk blend this morning. They were delicious.

Diane Says:


I won this last recently, and tonight I'm going to make gluten free banana nut bread. I'm sure it'll be yummy!

Dave Says:


I won this awhile back and it really works great in recipes… Great stuff, I don't have to worry about buying fresh stuff and have to throw what I don't use away… The Cocoa mix makes great frosting too…

jessad Says:


I'm so excited to have been chosen a winner for October – I can't wait to try new recipes w/these products…My mom really likes to use this powdered buttermilk. I can't wait to see what you send me. Have an awesome month of November-you certainly made mine
Leave a Comment or Write a Review
Posting Policy
Bite of the Best encourages our readers to comment on and review any products that we write about. Please express your opinions in a mature and civil tone of voice. We will not post rude or otherwise inappropriate material on Bite of the Best. We look forward to your comments and reviews!