PAST BITE
September 11, 2012
September is a month-long celebration of the ways DOVE Dark Chocolate can help brighten the end of summer!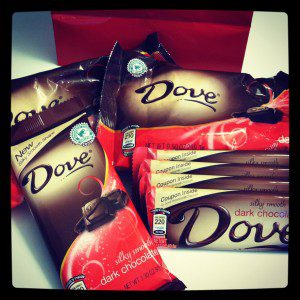 The chocolate has a sweet taste and silky smooth feel … whether you are taking a "moment" on your own or sharing a one with a loved one, this dark chocolate offers an indulgence for any occasion.
Some ways to use Dove Dark Chocolate Promises :
elegant fortune cookies
turn-down pillow treats for visiting guests
on cheese platters
in a mesh bad tied to a bottle of red wine as a hostess gift
in an attractive jar as a gift
place an unwrapped one on sugar cookie dough before baking
chop and use for the chips in your chocolate chip cookies
and, of course, just enjoying them
The makers of Dove asked me to be a part of the DOVE Chocolate "30 Days of Dark Chocolate" program — where I would post my thoughts about the chocolate — both on Bite of the Best and throughout my social network.  They are compensa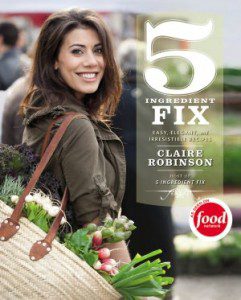 ting me for my time and providing me with chocolate samples.
For you —  they're offering ten chocolate FREEBIE giveaways.
Take a chance to win one of ten (10) prizes.  Specifically, nine (9) winners will be chosen at random to receive 2 bags of Dove Dark Chocolate Promises, 1 large bar of Silky Smooth Dove Dark Chocolate and 3 regular sized bars of Silky Smooth Dove Dark Chocolate. One grand prize winner will also receive the chocolates, plus an an autographed copy of Claire Robinson's "5 Ingredients Fix."  Only available to U.S. residents. Prize value ~$25.
TO WIN: Post a comment here telling us how  you use Dove Dark Chocolate? Be sure your email address is listed correctly so we can obtain your shipping address—should you win the prize.
The FREEBIE ends midnight September 30, 2012.
176 Comments on "Win DOVE Dark Chocolate"
granny907s Says:


How do I "use" Dove Chocolate? I EAT it. I EAT a LOT of it. I treat myself at the end of a long week. I will give a grandkid some "Debbie chocolate" as they call it, as they overheard Granpa call it! Because it's "my" special chocolate, of course they assume it's something super special, and indeed it is, they tell me "Gramma your chocolate is the best"

I also bring a nice bag of chocolate promises as hostess gifts to my friends. They love it.

shschaumburg Says:


I keep Dove Dark Chocolate in my house as a treat when I have had a stressful day and need a little pick me up. I love the rich deep flavor. It makes me smile! shschaumburg@aol.com

susitravl Says:


I just eat it….sometimes, I will shave some onto the top of cake or brownie frosting – chop up bars to add to cookies. Delicious…nothing better than chocolate!

yukomushimushi Says:


How I use dove chocolate. I eat them. When ever I want. As much I want.

christine24 Says:


I like to eat Dove chocolate all by itself, letting it melt in my mouth. I love the smooth texture.

Dave Says:


Chocolate Chip Chunk Cookies, Brownies, Fudge, Naked, Just enjoy,plenty of uses for Dove Dark Chocolate…But most all is the deep dark chocolate flavor… Yummmmm!!!!

Gwenelle Says:


Mostly I just eat it, but around the holidays I like to make walnut clusters with it. For some reason, this impresses people. I know, they taste fantastic, but it's the easiest thing in the world to do!

cubhill Says:


I eat them since both my husband and I love dark chocolate.

mlb67 Says:


Dove dark chocolate is best with some fresh fruit. The combination of rich dark chocolate and fresh berries, peaches, pears, whatever is in season, cannot be beat. But don't worry. Should we be short fresh fruit, we manage to eat Dove all by itself. It satisfies both the kids and the adults.

Sandra Says:


I use Dove to make molten chocolate cakes. Rich, creamy and SO good.

unclesam Says:


make hot chocolate milk in cold weather

Cate S Says:


Drop a Dove Dark Chocolate into your afternoon coffee.. yum!

phoenid Says:


I make a toffee base and then I melt white and dark chocilate on top and swirl, then chill for a lovely marriage of toffee and chocolate. Great for gifts and holiday!

timmar68 Says:


I use it in recipes. It's very good!

Karen Boehner Says:


I prescribe Dove Dark Chocolate for sunny days or cloudy days, as an appetizer or a dessert, for work days, or days of rest…almost any situation!

plmeek Says:


Besides just eating Dove Dark Chocolate on it's own, I also like to melt it and dip pretzels into it.

bettycd Says:


Dove dark chocolate is an excellent treat. This week the bag in my bedside table drawer was emptied. A couple of dark chocolate promises melt on the tongue and satisfy far better than the candy bars of my youth. I have not cooked with them – most of those baked treats are considerably higher in calories and sugar that I'm far better off with a Promise or two instead.
tjandbcd at optonline dot net

Goldenmane Says:


I use Dove Dark Chocolate in chocolate chunk cookies. I also melt it and dip fruit in it to make chocolate-covered strawberries, cherries, etc. But most of all I simply have a few pieces daily as a treat for myself.

Memise Says:


I usually just eat it but they were yummy shaved on top of cupcakes and turned out really pretty.

silanti Says:


I use Dove chocolate for a mood pick me up. It's good for you and does help cheer me up.

tinabonnell Says:


I'd for sure share these with a dear friend who eats one per day….love dove!

fabianow106 Says:


I love chocolate dark, semi sweet, milk, I keep them all in the house. I have found that Dove is one of the better products. I like to take a bit after dinner as a quick dessert.

debby14 Says:


I savor it. All you need to do is eat it!

REBECCA STEPHEN Says:


I cut the candy up into pieces and bake cookies or bars, brownies and cakes

purviska Says:


I keep them on hand as special snacks.

tigrislilium1 Says:


It is a very very special snack when I have left over calories at the end of a long work week.

embee120 Says:


I like them all by themselves!

Jessica Grigsby Says:


I love Dove chocolate, I have shave them over my dessert, pie and it's divine. I love to eat them with ice cream or glass of milk. No other chocolate can compare to the rich tasting chocolate of the Dove.

ladyvon5845 Says:


I devour it mostly, but I also use it in my baking.

fth1013@yahoo.com Says:


Use, lol. Occassionally for cupcake topping, fondue, mostly for MY indulgence!

Jake Says:


I use it as a quick snack

Hank Mccoy Says:


I eat them by the bar

glori johnson Says:


I use my Dove everywhere….i keep them in my purse.

Veronica L Says:


I just eat it, delicious!

Amanda Hoffman Says:


eating alone and in cookies

Paula Dinsmore Says:


Love DOVE oh yes

missmeigs Says:


I eat them as a snack

steve h Says:


bake into cookies

Jana Leigh Says:


I use Dove chocolate to savor and eat, but also as broken up chips in cookies (instead of chocolate chips) and also to melt and dip pretzels in. YUM.

mike2stacy Says:


use for baking or just enjoying a bar

michelle fuller Says:


I like eating the bars and melting them to pour over slices of fruit.

Heather Way Says:


I savor every last second of the experience

Chris Says:


I use it in chocolate chip cookies!

sydney Says:


I have one piece everynight to crave my choclate cravings!!!

Chuck Says:


I use Dove Dark Chocolate purely for the health benefits of dark chocolate. Sometimes I over medicate with it

sandra Says:


haven't tried it before

tracey byram Says:


I melt it and drizzle it on peanut butter cokies.

Carolyn G Says:


I use it for baking!

Melissa Zimmerman Says:


I just eat it.

CAROLINADELTA Says:


I eat my Dove chocolae two ways.

One is the simple "take a piece and savor it". Let it slowly melt over your tongue and . . .

The other is a treat my grandparents use to make me for my 4:00 PM snack. They would take a small piece of baguette, butter it and give me two squares of dark chocolate to eat with my buttered bread. Boy did I like quatre heure! I re-create it my way now.

Mike Says:


It makes a great snack.

ELIZABETH C. Says:


My family and I eat it right out of the bag.

bitsyspider Says:


I eat it. Usually have a bag at work and will occasionally share with my coworkers. Its fun to compare the quotes and fortunes.

virgomomwriter Says:


I use them for holiday treats.

redbudlady Says:


I'd eat some and share some with my grandson. We both LOVE chocolate!

Becky Ramirez Says:


after dinner treat (shhhhhh…sometimes a before dinner treat)

tvcollector Says:


I use chocolate as a calming moment

jennifer57 Says:


I EAT IT!!!! YUM!

Selinda Says:


I keep it in the freezer for a quick treat on those days when you just need some chocolate!

michealgrim Says:


i use them whe ever i make my world famous brownies!!! mdg891972@hotmail.com

kktwins Says:


I would eat Dove chocolate as an afternoon snack

Bakersdozen Says:


I love Dove dark chocolate. I sometimes keep a secret stash for myself. I also love to add it to cookies.

Lorraine Says:


chocolate nirvana

Lyerka Says:


I just eat it. Slowly. Bite by tiny bite. Mmmmmm!

Josephine Greco Says:


Enjoy it for my sweet tooth.

Joanne Bernard Says:


I eat a little bit everyday.Most of the time!

dario Says:


I use it as an afternoon pick me up

greco5 Says:


Love dark chocolate.

night1836 Says:


I eat it as a special treat to myself and I also like to (occasionally) toss a little piece in my hot coffee for an extra special kick.

greco5 Says:


What a great prize to enjoy.

Carly Says:


I would eat the chocolate.

Womenfest Says:


For my afternoon snack I would open my Dove Dark Chocolate bar and tell myself to just eat half!

krafty9440 Says:


When i have some Dove chocolate, its a moment to savour, relax and be calm.

greco5 Says:


Dove dark chocolate is for me.

theimaginetree Says:


Eat it, just as it is! It's too good to "waste" baking into treats.

Julie Phiffer Says:


I am addicted to Dove Dark chocolate. How do I use it?? I eat it.

ANGEL JACKLYN Says:


I EAT IT STRAIGHT OUT OF IT'S PACKAGE. IN FACT, I'LL SNACK ON IT ALL DAY LONG SHOULD I HAVE A PACKAGE! =)

tokentrish Says:


Dove Chocolate and a cup of hot black coffee. A bite of chocolate and a sip of coffee, sit back and let the chocolate melt into the coffee, swallow and bliss ensues.

Tim Says:


I like to melt down the dove dark chocolate and put it on top of peanut butter bars. You can use milk chocolate as well, but dark tastes better mixed with the peanut butter.

David Says:


I usually eat the dark chocolate plain, though occasionally my wife like to break up pieces of both and put them into cookies.

okieway Says:


I love to eat Dove Dark Chocolate as a snack, serve guests, or bake broken pieces in cookies!

michelle colon Says:


i use it by eating it! this is the one thing i dont share with the kids! i keep it in a drawer in my desk! and when i need a pick me up i open one up and eat it slow!

kacor7 Says:


I hide it in the house and save it for *ME* time

greco5 Says:


Dove dark chocolate is my favorite!

colleen Says:


I eat dove chocolates for special occasions.They are so rich and so good they deserve to be eaten when its a special day just as special as they are

Jeana Says:


i eat it by its self i love dark chocolate the best but i will eat any kind of chocolate rather its dark milk white i just love chocolate

Angela Says:


I use dove dark chocolate to keep my mom s chocolate stash full

brenda dobson Says:


I use dove dark chocolate for stress relief and mood enhancer and for anything else that I can come up with as a reason LOL!!! any reason is good enuff to eat Dove Dark Chocolate!!!

screenerbabe Says:


I put Dove Dark in my oatmeal. 4 squares, with vanilla, salt, and pepper. So yummy!

TawndaM Says:


I EAT it!… ok… SOMETIMES I melt it over fresh hot brownies

Sharon Becksvoort Says:


I would just eat it, because it is that Good!

Danita Rogers Says:


I eat it and bake with it. YUM

StacyB Says:


I love Dove Dark chocolate for it is very creamy,rich,satisfying..And a good price
I have used it to cover my organic strawberries.Delish!

Christine LaRue Says:


I "use"/enjoy it as a pick-me-up at the end of a long week (or difficult day). The messages inside the wrappers are particularly uplifting! Sharing with others is nice too!

Kali Braden Says:


I absolutely LOVE Dove dark chocolate promises. They are simply amazing! So rich and smooth. Not too sweet and so nummy!

Kali Braden Says:


I eat them just the way they are…simple perfection =)

Rhonda Erwin Says:


Love your raspberry chocolate! When you unwrap each piece of chocolate, they look so elegant. Love the swirl in the chocolate!

Amber M Davis Says:


Right out of the pack with red wine….cheaper than therapy:)

Kimberly Says:


I eat the Dove chocolate just the way it is. I like to have it when i need a quick boost throughout the day.

Rhonda Erwin Says:


I like to give Dove chocolates as gifts to my friends and family. Nothing says "LOVE like DOVE!"

ruth Says:


I love to use dove dark chocolate on my strawberries, blueberries and also just to eat alone. So good and I love the little kick of flavor it has.

Monica Says:


I chop the chocolate up for cookies, drop a couple in hot chocolate or coffee, but my favorite thing is melt them and drizzle over ice cream!!!

melamie grace-short Says:


I love dove dark chocolate with slices of apple's and cheese. Mmm.

Brenda Says:


I love Dove Dark chocolate. I eat it all the time. I have a hard time sharing it. It's the only chocolate I will eat <3

Mary P Says:


We use chocolate to fuel our cardmaking ministry, Heaven Sent. Everyone agrees that the Dove chocolates, especially the Dark and the Dark with Raspberry are the ones we secretly crave. They go the fastest, taste scrumptious, satisfy the best, and inspire us to be the most creative.

Diane Parke Says:


Dove reminds me that I deserve to be happy. I can do anything I set my mind to & Dove is a secret sorce of motivation!

Jan Marsman Says:


I absolutely cannot live without Dove Dark Chocolate with Raspberry. I have stopped buying any other candies! And that is saying a lot since I am a chocoholic.

Stefanie Says:


I use Dove Dark Chocolate (usually the Promises because I enjoy the messages inside) as a snack/to get my chocolate fix. Nobody makes a smoother, tastier dark chocolate than Dove!

William Bice Says:


Dove dark chocolates are desert for my wife and I after lunch and dinner.

Jennifer g Says:


I bake the most decadent, moist, delicious dark chocolate cake using dove chocolates!! Everyone I know loves to eat this cake & say they want more !! I'd like to try another cake using dove dark chocolate & peppermint for Christmas ! I love reading the little quotes/notes on the foils & have kept several of them ! I will sometimes even give the foils to my husband as a little note for the day, he loves getting them !

Amy Fish Says:


I not only eat Dove Dark, I find ways to add it in baking. I made a chocolate cake with Dove Dark as the glaze for a friends Birthday, They all said it was to die for. Have chopped up the Dove dark and Raspberry and added that to a chocolate cake and made a glaze from that as well. I know make my own Hot Chocolate from Dark Dove Chocolate. yummm
I so Love Dove Dark Chocolate cause its the one chocolate I can eat that doesn't give me migraines. just 2 pieces are
only chocolate indulgence I need to make it thru the day. Couldn't ask for anything better.. Thanks for a Wonderful Product and not sacrificing changes over the years to ruin a good thing like others do to cut costs.

Judy Walters Says:


I ALWAYS keep Dove dark chocolate on hand. We have it every night after dinner. LOVE it!!!

Lori C. Says:


I love making desserts with dark chocolate. My favorite is a "fudge" using mascarpone cheese & shaved dark chocolate. I place the mixture into a fluted pan for a pretty look. But my husband doesn't care what it looks like! He just loves the taste.

Melinda jiles Says:


Well, I like to eat the it. I like to savor each piece as slowly let it melt in my mouth.

Yoko Harnjo Says:


To unwind from a long day of juggling work and 2 little boys! 'Nuf said!

Christa moore Says:


I Love,Love Dove dark chocolate and I melt over hot sundae.

Elizabeth Dodge Says:


Dove chocolates are Fabulous!!!

Elizabeth Dodge Says:


Dove, Dove, Dove ….a perfect beginning and ending to the today!!!

wilna_wheeler Says:


I use it for stress at work!! It lowers my blood pressure! Dove dark is the best medicine!!

Karol Says:


I just eat it out of the bag as a nice treat. Love the dark chocolate!

Melissa Menza Says:


I have never tried Dove DARK chocolate before, but I eat Dove milk chocolate ALL of the time. I would use the Dove Dark Chocolate to make chocolate covered pretzels for the holidays!

Ingrid Ames Says:


I absolutely love Dove dark chocolate!! I love to eat a piece of Dove dark chocolate when I am stressed or reading a good book or just any plain old time. Also I like to melt it and use it to dip strawberries in or pretzel rods. YUM!

terri marrical Says:


I love Dove dark chocolate. it is really good when you put some in hot chocolate. It makes hot chocolate tastes so much better

Bridget Hurst Says:


Eating Dove Dark Chocolate straight out of the freezer is the absolute BEST!

Liz H Says:


I like my dark Dove chocolates straight up with a glass of Pinot Noir. The perfect ending to any day!

cdarkangel Says:


I eat them when ever i want. I just place dove dark chocolate in my mouth and let it melt. I also like to take chocolate chip cookie dough and put dove dark chocolate in the middle then bake them. Then when they are still warm i'll eat them and the chocolate will be nice and melted and smooth and gooey. Dove dark chocolate is best way to end the day! <3

ryry954 Says:


Cool stuff.

Kristi Spann Says:


They are my special treat… when I'm happy, stressed or sad…. they fit any occasion!

Launi Lewis Says:


How do I use Dove Chocolate? I use all of their Chocolate from baking with it…. and hiding it from my husband the chocoholic that will eat all if it before me
I also keep some with me at work for those times a girl just needs to take a break and go Ahhhhhhh…..

drlao_7@yahoo.com Says:


I love it just the way it is… smooth and yummy! I do enjoy using it shaved or melted into smoothies, croissants etc – any way it's unwrapped… it's delicious!

bina Says:


Well firstly, I EAT IT, LIke there is no tomorrow. But I eat savor it, instead of chewing, i bite a bit and let the chocolate just melt in my mouth. The feeling is amazing. Also i use in baking cookies, and cake

melissa genestra Says:


I love my dark choc with all natural peanut butter. Healthy snack.

jackie Says:


i used dove to make smores it was amazing

Mary Vanderburgh Says:


I love to melt dark Dove chocolate and dip fresh strawberries in it, YUM!

cdgiraffes Says:


Ieat it at home, I eat it at work, of course there I have to sneak it, and usually one piece right before I go to bed !!!

Brenda Says:


I eat them that is how I use them. I love the dark Chocolate ones. Thanks for the giveaway. Hope i can win theis.

laura ari Says:


I use dove chocolate to dip strawberries in!

brooksm6 Says:


I love Dove chocolate, it is simply the best. I eat it all by itself, I use it in cooking, I eat it with strawberries and I share them with friends. I even used Dove chocolate at my wedding. I put them in small little boxes and had them at the tables for my guest. They were a big hit!

tamatha hunter Says:


I keep it in the frig for a quick pick me up

Fonda Beasley Says:


I bring two to work each day.One for myself and one for my co-worker and we read the messages to eachother!

Jessie G Says:


I don't use it, I enjoy it! I love the rich flavor. I put it cereal, ice cream, and even enjoy it while drinking a cold Dr. Pepper. The fact that it's good for me is just a bonus. I also love the little messages of hope and inspiration. Unlike a fortune cookie, they truly seem to address me personally. Thanks for making the best dark chocolate Dove!!

GideonCross Says:


I eat them as they are (delicious, just by themselves), but I also like to pop one in my coffee. It gives the coffee a decadent, smooth flavour (definitely a treat!).

chubbybird1 Says:


I am breastfeeding so at the end of a long day I eat some Dove dark chocolate as a reward for being a good Mommy!

Sarah Says:


Does it need to be "used," or is eating it straight acceptable? Because I'm inclined to go with that… I might even share. Although, I might consider apply the chocolate to different endeavors! The chocolate chip cookie idea above might not be a bad thing to try.

Sarah Says:


*applying

pauletteks Says:


Stress day indulge n a trail mix of dark chocolate n mixed nuts love it!!!!!

Joyce Carnley Says:


I keep Dove Dark Chocolate in my kitchen at all times. It goes with me everywhere. I reach for it through out my day whenever I want a moment of quiet and pleasure. I love to watch my grand babies enjoy it too. A little vacation in a red wrapper!

Nicole Griffin Says:


Besides melting perfectly in your mouth, Dove Dark Chocolate melts wonderfully to make chocolate dipped strawberries and pretzels. Or chop some up and sprinkle over hot, fresh from the oven brownies and let melt into a fantastic glaze.

Kim Says:


I cannot live without DOVE dark chocolate! I eat it everyday! I love the wonderful taste, the great feeling it gives me and the smile it leaves on my face!:)

Christa Schuckers Says:


Dove dark chocolate is our favorite! We always have a candy dish full of it or the choc rasberry. I sometimes take one to work to take the edge off. Otherwise we enjoy a few usually as dessert paired with some favorite wine or cheese. I have used the dove baking chocolate for some delicious baking projects and the chocolate balsamic dressing for salads! I love to read the inspirational messages inside. We love the seasonal wrappers/messages the best. Some of our favorites we will place in each others work bags to bring a smile:) Thanks Dove!!

Pat Everett Says:


I have been eating dove dark chocolate every day for the past 6 yrs. It is my favorite!!! I also have noticed that it has improved my cholesterol numbers and I read research has shown this to be true. I buy 2 bags each week and share some of it but would say I consume the most of it myself and would love to win this prize. Also I have baked small bundt cakes with it that were enjoyed by everyone. Thank you!

Trailmix73 Says:


Dove dark chocolate is the best shared
with others. I love using it any way I can.
But for me the best part Is sharing it with my
Children. My 18 month old loves it as much
as his mom!

JCsMormor Says:


I eat Dove dark all the time and then I use it in some of my recipes. While always eating a little more. Dark chocolate is great and Dove helps satisfy that and then some because it is affordable.

Beth Harpring Says:


My husband and I have a piece of Dove dark every evening as we catch up on the day. dove dark is definately the favorite of the whole family- always have it in the candy jar!

greco5 Says:


Dove dark chocolate is my favorite.

Melissa Cassel Says:


I "use" dove chocolate as a treat when I am studying for exams… that and a bottle of red wine. When my exams are over, I celebrate.

Sandra Says:


I use Dove in recipes -especially molten chocolate cake -YUM

Eliza Says:


Dove chocolate is a little piece of creamy silky heaven. Its delicious flavor is addictive and delightful:)

Eileen Says:


I JUST UNWRAP IT AND THEN EAT IT ALL BY ITSELF!!!! DOVE DARK CHOCOLATE IS THE BEST!!!!

Heather Poindexter Says:


I used to eat Dove only on special occasions, but now I have discovered if I crunch them up into small peices and put them in icecream theu tase great and last even longer!

jeanne conner Says:


I eat it morning, noon and night…

dawnierotten Says:


1. Pick strawberries from my garden
2. Melt Dove Dark Chocolate.
3. Dip fresh strawberries into melted Dove chocolate.
4. Chill Dove Chocolate-dipped strawberries in the fridge.
5. EAT!!

greco5 Says:


You couldn't ask for anything better than that for prizus.

alexa Says:


Dove chocolate is very good.

serena holloway Says:


I Love Dove chocolates. I like unwrapping the chocolates and reading the soft and simple quotes on the inside of the wrappers.

Bonnie from BiteoftheBest.com Says:


This contest ended at midnight on Sept. 30

Julie Phiffer Says:


Received my Dove Dark chocolate today. It tastes awesome. Thanks so much for the great contest!

tinabonnell Says:


I received my chocolates today!! THANK YOU..what a fun treat to win!!

greco5 Says:


Dove dark chocolate is healthy for you.

Amy Fish Says:


Yea!!! I received my Dove Dark Chocolate 5 minutes ago.. awesome. Thanks so much for this contest and Thanks for picking me as one of the winners… Now to think of what I can create this weekend with the Dove choc.
I just made the Dove Chocolate Cheese cake last weekend for my Nieces birthday. That is such a hit everyone loves that cheesecake. Thanks again.. Happy Dark Dove Chocolate weekend to everyone.

greco5 Says:


DOVE DARK CHOCOLATE IS TE BEST!

terri marrical Says:


Dove Dark Chocolate is the best. I usually don't like dark chocolate, but this is really good. It is smooth and not really strong like some of the dark chocolates are. I would recommend Dove Dark Chocolate to everyone.

greco5 Says:


Dove dark chocolate is what I enjoy eating.

Melissa Menza Says:


I enjoyed the Dove Dark Chocolates that I received from your contest. I'm not a fan of dark chocolate at all, but the Dove brand wasn't too bad. My kids loved 'em! Thanks!

tina b Says:


Loved the Dove Dark chocolates..my scale…not so much…Thanks for the fun box on my doorstep!

silanti Says:


I use dark chocolate to as a mood elevator.
Leave a Comment or Write a Review
Posting Policy
Bite of the Best encourages our readers to comment on and review any products that we write about. Please express your opinions in a mature and civil tone of voice. We will not post rude or otherwise inappropriate material on Bite of the Best. We look forward to your comments and reviews!