PAST BITE
June 25, 2012
Mincing the "stinking rose" can be now accomplished with pro-style results, and with minimum effort, mess and finger odor. Unlike a garlic press, which crushes cloves into a paste, Microplane's Garlic Mincer can transform cloves of peeled garlic into tiny, perfectly uniform cubes that retain all their natural oils — the key to optimum flavor — ready to be tossed into a sauté pan, or added to a vinaigrette, for superb taste and texture.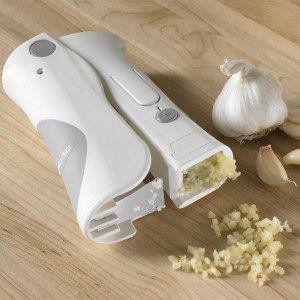 The top-loading design feeds cloves through a super-sharp grid for fast and effortless mincing with a simple squeeze of the handle. The removable grid cleans easily, and the entire tool is dishwasher safe. It includes a soft touch handle for a secure and comfortable grip and its generously sized hopper can hold up to 4 peeled cloves of garlic at a time, depending on their size. Available now exclusively at Williams-Sonoma and by winning the FREEBIE here.
Take a chance to win! Specifically, three (3) winners will be chosen at random to receive one (1) Microplane Garlic Mincer. This prize is valued at $24.95. Only available to U.S. residents.
To win:  Post a comment here about chopping garlic.  Be sure your email address is listed correctly so we can obtain your shipping address—should you win the prize.
The FREEBIE ends midnight August 3, 2012. Three (3) winners will be selected at random.
This FREEBIE is only a small example of the wonderful giveaways that are constantly taking place on BiteoftheBest.com! Please note that while this giveaway is open to all readers of our site by leaving a comment below, many of our contests are ONLY open to registered users of BiteoftheBest.com. Don't worry, it's FREE to register.
We hope you enjoyed this small taste of our FREEBIE giveaways. Why not sign up now to ensure you're eligible for all our contests! SIGN UP HERE.
62 Comments on "Win a Microplane Garlic Mincer"
dianap Says:


I chop garlic for better taste and better health! A report from Argentinean researcher Marcela Alejandra Vazquez-Prieto and colleagues, published in the August 25, 2011 edition of The Journal of Nutrition and Metabolism, describes a study in which rats fed a high fructose (sugar) diet were randomly assigned to receive garlic extract, onion extract, or placebo in their drinking water. At the end of the eight-week study period, those rats who were given the garlic or onion extracts were less likely to have high blood pressure, insulin resistance (what we might call pre-diabetes), and inflammation of the blood vessels.

bigjack Says:


"Peasant foods" usually contain onions and garlic. Along with lots of vegetables and greens and very little meat our early and recent ancestors ate pretty healthy compared to our modern diets (1960′s forward) of super-sized portions of restaurant food, fast-food and endless snacks.

gotfire55 Says:


I just started chopping garlic. I used to leave it out of recipes, but now I love it!

joeysweeps Says:


My spouse cannot tolerate onions so for 41 years we have compensated this bizarre taste mutation by using extra garlic in everything. This garlic mincer would certainly help since we double garlic in everything. Jo

cashmear Says:


This looks fantastic! I love using garlic in dishes but don't like mincing by hand!

unclesam Says:


very handy makes very good blendy in, like 2 win

Sweeper2000 Says:


This would be great to have for all of my Italian cooking.

chargin Says:


we use garlic in about every-thing, sure taste great and good for you..

jennifer57 Says:


I havn't chopped garlic in years but would sure start to again if I had this!

rlkraf Says:


Looks like chopping garlic would be easier with this! Would love to try it.

LIDARKSIDE Says:


I love fresh garlic in our food.

mepratt55 Says:


This would be so helpful when chopping garlic – doing it by hand gets too sticky and messy! I would love to try this.

cooperdk5334 Says:


This Garlic Mincer looks to be easier to use and faster. I would love to have one

Jesse Says:


Wow! Just what I need. I hate chopping/mincing garlic as I am all thumbs. This looks like a real gem!

plmeek Says:


I put garlic in/on just about everything I eat and find most garlic presses so clumpsy. Would love to give this one a good work out!

purviska Says:


I've always hated the sticky fingers from garlic, but it's something I use all the time. This looks like a great tool!

ebienic Says:


love garlic and its health benefits

AAAndros Says:


Aha! An easy and pleasant way to accomplish the task!

eldoradogram Says:


I hate peeling and mincing garlic. It gets sticky and clings to the knife. My hands always reek later.

tvcollector Says:


Getting garlic to the right consistancy is sooo tough..

jdaviduke Says:


I' not a big fan of chopping garlic.

Renee Says:


I love garlic, but don't eat it as much because it's hard to cut (without almost cutting my fingers). And since I'll never be a professional chef who can cut food quickly and the same way every time, a garlic mincer is the next best thing!

ladyvon5845 Says:


I love to use garlic in my cooking and this would save my hands alot of chopping and unwanted fragrance.

bobbin52 Says:


My family loves garlic, this would make it a lot easier to prepare.

vickyeverson Says:


Living near the garlic capital of California makes this a necessity!

lgreene Says:


This would be great to use!

rmarsh Says:


We do not use garlic very much but perhaps this handy tool would change our habits.

Debra Guillen Says:


I love fresh garlic but hate getting the smell of garlic on my hands and would love to try this

ELIZABETH C. Says:


I chop garlic often and it can be difficult. This mincer would be wonderful to have.

debby14 Says:


This looks like a great tool. I have yet to find puported garlic "mincers/slicers" that actually work well. I'd love to give this one a try.

Valerie L Says:


Garlic adds flavor to a meal and it is good for your health

okieway Says:


I put chopped garlic in just about everything!

Kim Says:


This gadget seems like a Godsend, simplifying what is usually a time consuming task (not to mention that it's extremely hard to get that garlic smell off of your fingers too)!

rustymom Says:


Would love to win. Fresh chopped has to be better than buying pre chopped in jars!

CAROLINADELTA Says:


I have to laugh because I absolutely need this garlic chopper. Right now when I peel and chop garlic, I'm like Jerry Lewis in the kitchen. Its a slow, clumsy and messy process.

unclesam Says:


versatile use

theimaginetree Says:


As much as I would love to get the thin slices of garlic with a razor like in Italian mob movies, I just use a garlic press. I love the one I have, but it still wastes some of the clove, and I still need to use my fingers to get the rubbish out.

christine24 Says:


I love garlic, love chopping and mincing with my knife and cutting board. This tool would cut my prep time and allow more time to chop up the rest of my vegetables.

marty39 Says:


the arthritis in my hands makes chopping very difficult, especially cloves of garlic. one of these Microplane Garlic Mincers would make it a lot easier amd maybe just save some of my fingers.

michealgrim Says:


many people dont like chopping galir,just like onions,however i love chopping both.i like the smell and the sounds!!1im weird that way i guess!!!!

Margie Says:


I'm all for a mincer. I'm knife leety.

LIDARKSIDE Says:


I prefer having all the garlic I cook with minced.

hriesz1 Says:


mincing takes forver, i just buy it that way to save time since we use garlic in everything. it would be much nicer to have fresh garlic everyday! must get one of these!

jeanne conner Says:


I really dislike the mess of chopping by hand, this would solve that problem… thanks

mllmogaml Says:


I have always minced my garlic by hand, but the older I get the more "slips" I have. I'm not giving up my garlic…so I'd better get something like this.

Ron Miller Says:


Boy do I have a garlic story, to make a long story short, wife and I early in marriage had no idea what a clove of garlic was, so we chopped and added the entire bulb of garlic..

orchidlady01 Says:


I have several garlic presses and this would be a great tool to add to my collection for chopping garlic for cooking.

Melinda Says:


Chopping garlic by hand takes me way too long; this looks great!

Ron L. Says:


chopping garlic is time consuming the mincer would make it a breeze!

Rachel S Says:


I would love to win this because i chop garlic by hand and i would love to try something new that chops garlic.

GATORMOM Says:


I am so bad at chopping garlic by hand. I use a lot of garlic in cooking almost every day and having a great tool like this would make my life so much easier. I love the fact that this goes in the dishwasher. A great bonus!

tammyjo50 Says:


THIS WOULD BE EASY TO USE.

JD Northwest Says:


We moved to a garlic press for our garlic needs. Mincing by hand was always a mess and flavored our hands for hours.

Heather Poindexter Says:


This would be a great tool! I love garlic, but hate to mince it so I skip that step alot of the time. Especially if I do not want to stink.

Alexandra Roach Says:


I make a lot of italian food, this would be awesome!

Gaines Simmons Says:


Hello, how are you? Thank you for this opportunity. I use a serrated knife to chop and mince my garlic.
gainessimmons@aol.com

Rene Chartier Says:


I love using Garlic in several italian dishes. This would be so great to have.Rene Chartier

djhelkey Says:


I use garlic every day.

greco5 Says:


Garlic is healthy for you.

greco5 Says:


Garlic makes food tasty.

greco5 Says:


Garlic brings out the flavor in cooking.

greco5 Says:


Garlic is healthy for you and makes food taste good/
Leave a Comment or Write a Review
Posting Policy
Bite of the Best encourages our readers to comment on and review any products that we write about. Please express your opinions in a mature and civil tone of voice. We will not post rude or otherwise inappropriate material on Bite of the Best. We look forward to your comments and reviews!