RECIPES
February 28, 2008
Located on 30th Street in Miami Beach (FL), the more tranquil north side of South Beach, The Palms hotel was just far enough from the South Beach Wine and Food Festival — held on the beach from 10th Street to 14th Street — to walk-off some of the incredible delicacies I consumed during the festivities.
The Palms, a family-owned hotel, is getting a facelift. They're in the midst of adding a spa (Who isn't?) and upgrading their rooms.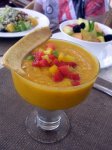 I wanted to share with you this unusual soup I sampled at the hotel. From the name you'd think it would be sweet, but it's not. Instead the acidity of the yellow tomatoes balances the sweetness of the mangoes. My preference, though, would be to stir in some diced jalapeño pepper or a few drops of Tabasco sauce.
(Since this just arrived in my inbox, I have not kitchen-tested it.)

Executive Chef Gerd Richter's Tropical Mango Gazpacho
4 cups water
4 peeled and diced ripe mangoes
1 cup mango puree
1 cup white wine vinegar
1 yellow Spanish onion, diced
8 yellow tomatoes, diced
1/2 bunch fresh cilantro
2 European cucumbers, peeled and chopped
2 carrots, peeled and chopped
2 Tablespoons sugar
1 cup extra virgin olive oil
1/3 cup fresh squeezed lemon juice
1 Tablespoon white pepper
1 Tablespoon salt
For garnish: 8 crispy plantain chips
Process all the ingredients (except garnish) in a blender until smooth. Serve in martini glass garnished with plantain chips and fresh cilantro. Makes 8 servings.
Note: The chef garnished my serving with the plantain and diced red, yellow and green peppers
Leave a Comment
Posting Policy
Bite of the Best encourages our readers to comment on and review any products that we write about. Please express your opinions in a mature and civil tone of voice. We will not post rude or otherwise inappropriate material on Bite of the Best. We look forward to your comments and reviews!