March 29, 2017
Varieties: Maiz, fresa
Details: $4.99 per 10-ounce bottle
Availability: Nationwide

Tio Gazpacho introduced "drinkable soup" in 2014 and recently added two new flavors, Maiz and Fresa, to their core line.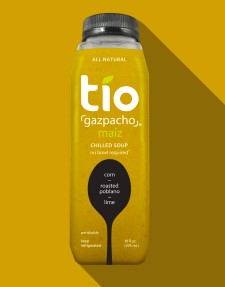 Maiz is made with corn, roasted poblano and lime;  Fresa with strawberry, basil and romaine.
Each 10-ounce bottle contains 150 to 160 calories, 0.5 to 1 grams saturated fat (of 5 to 9 grams total), 280 to 590 milligrams sodium and 3-4 grams protein. Fresa is a good source of iron and potassium with 10% of the daily recommended intake.
Save
Leave a Comment or Write a Review
Posting Policy
Bite of the Best encourages our readers to comment on and review any products that we write about. Please express your opinions in a mature and civil tone of voice. We will not post rude or otherwise inappropriate material on Bite of the Best. We look forward to your comments and reviews!