TIDBITE
March 21, 2008
Bet you thought with that title, this would be about a new Zagat survey. Not!
"Opinionated About Fine Dining Survey 2008: The 100 Best Restaurants of North American & Europe" is a copycat of those popular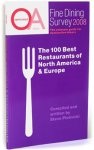 guides. This guide's written by Steven Plotnicki. It's his list of best of the best places to dine culled from a survey of only 600 respondents from around the world. To be fair, Tim and Nina began their eponymous guides in a similar fashion, that is, surveying their friends.
Is this $6.95 survey worth it? Not really, unless you're a world traveler who likes boasting rights. In fact, each person I've showed the guide to didn't look at where to go as much as where they had been. Me, too.
I've dined at Jean George (NYC) in the category "worth planning a trip around," Comme Chez Soi (Brussels) in "worth going out of your way for," Boulevard (San Francisco) in "important local choices" and many more of those listed. And some others included are on my Bucket List.
If you're interested, this compilation is available at Amazon.com
Leave a Comment
Posting Policy
Bite of the Best encourages our readers to comment on and review any products that we write about. Please express your opinions in a mature and civil tone of voice. We will not post rude or otherwise inappropriate material on Bite of the Best. We look forward to your comments and reviews!