Suzette & Franco Camacho, the creative minds behind Roomba, The Suburban, Swill, Tacuba Taco Bar, Seawich and Waterhouse  just opened a new restaurant —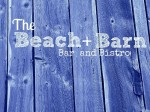 The Beach & Barn Bar and Bistro — on Main Street in Branford where Tacuba and Seawich were located.

The new menu contains a bit of Franco's greatest hits  — the duck nachos from Tacuba, steak frites from The Suburban, the Cubano from Seawich and Cod from Bespoke. The menu has something for everyone — soups, salads, snacks sandwiches/tacos, pastas and entrees — in a cozy , laid back, family-friendly atmosphere, along with a bar.
Consider The Beach & Barn Bar and Bistro is an every day dining place; visit them on facebook
– bonnie along with special correspondent: Robbin Seipold

The Beach & Barn Bar and Bistro
1207 Main St.
Branford, CT 06405
203-208-0736