CITY EDITIONS
August 19, 2012
Top female chefs will again serve signature dishes to fight cancer. In fact, more than two dozen of NYC's top female chefs will serve savory and sweet dishes at the Ninth Annual "A Second Helping of Life" on Monday, September 24, 7 p.m., at Pier 60 at Chelsea Piers.

Chef Amanda Freitag (of Food Network's "Chopped" and Cooking Channel's series "Unique Eats") will serve as Executive Chef at this fundraiser to support SHARE, a non-profit organization that offers free peer support to women with breast or ovarian cancer, their families and friends.  All of SHARE's services are free of charge and include helplines, educational programs, support groups, and public-health initiatives.
Individual tickets fro the tasting reception, plus a live and silent auction are $300, $500 and $750. Tables of 8 and 10 are priced from $5,000 up to $35,000. For information call 212-937-5581 or click here.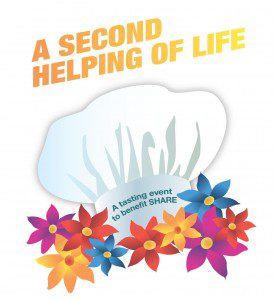 The participating chefs include: Anita Lo, Annisa; Rebecca Charles, Pearl Oyster Bar; Alexandra Guarnaschelli, The Darby & Butter Restaurant; Amy Scherber, Amy's Bread; Alison Awerbuch, Abigail Kirsch Catering & Events; Einat Admony, Balaboosta & Taim; April Bloomfield, The Spotted Pig, The Breslin and The John Dory Oyster Bar; Lynn Bound, Café 2 (MoMa); Heather Carlucci-Rodriguez, Print; Amanda Cohen, Dirt Candy; Ariane Daguin, D'Artagnan; Gina DePalma, Babbo;Colleen Grapes, The Harrison & The Red Cat; Gabrielle Hamilton, Prune; Emily Isaac, Trois Pommes Patisserie; Sara Jenkins, Porchetta & Porsena; Elizabeth Karmel, Hill Country; Sarabeth Levine, Sarabeth's; Ashley Merriman, Waverly Inn;Nancy Olson, Gramercy Tavern; Alexandra Raij, Txikito, El Quinto Piño and LaVara;Alexandra Ray, North End Grill; Sunchar Raymond, Union Square Café; Missy Robbins, A Voce; Rosa Ross, Scrimshaw; Barbara Sibley, La Palapa; Ivy Stark, Dos Caminos; Sue Torres, Sueños; and Julie Taras Wallach, Tipsy Parson.
Participating celebrity sous chefs for the evening include: Brenda Blackmon, TV News Anchor; Blair Brown, Actress; Lourdes Castro, Author,Latin Grilling; Dana Cowin, Editor-in-Chief, Food & Wine Magazine; Kathleen Chalfant, Actress; Melissa Clark, Food Columnist/Author; Tandy Cronyn, Actress; Judy Gold, Comedian; Rozanne Gold, Chef/Author; Dorie Greenspan, Chef/Cookbook Author;Donna Hanover, Broadcast Personality; Jessica Hecht, Actress; Cindy Hsu, WCBS-TV News Anchor; Jodi Kantor, Author, The Obamas; Rikki Klieman, TV Personality; Ellie Krieger, Chef/Host, Food Network's "Healthy Appetite"; Daisy Martinez, Chef/Host, Food Network's "Viva Daisy!"; Alex McCord, The Real Housewives of New York City; Lynne Meadow, Artistic Director of Manhattan Theatre Club; Sara Moulton, Chef, Cookbook Author, TV Personality; Karen Page, Food and Wine Columnist, Author, The Flavor Bible; Joanna Pruess, Author, Cast Iron Cookbook; Ruth Reichl, Author, Writer, Editor; Daphne Rubin-Vega, Actress; Carole Shelley, Actress;Valerie Smaldone, Media Personality; Linda Stasi, Journalist; and Lucinda Scala Quinn, Chef/Host, Hallmark Channel's "Mad Hungry."
- guest contributor
Leave a Comment
Posting Policy
Bite of the Best encourages our readers to comment on and review any products that we write about. Please express your opinions in a mature and civil tone of voice. We will not post rude or otherwise inappropriate material on Bite of the Best. We look forward to your comments and reviews!