July 26, 2012
Varieties: Mocha Cookie Crumble Frappuccino, Java Chip Frappuccino
Details: $3.99 per pint or $1.29 per single serve cup
Availability: Nationally available

Mocha Cookie Crumble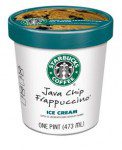 Frappuccino and Java Chip Frappuccino are the newest Starbucks' ice cream flavors available only through August.
Each 1/2-cup serving of the Mocha Cookie Crumble flavor contains 230 calories, 7 grams saturated fat (of 12 grams total), 21 grams sugar and 4 grams protein. A 1/2-cup serving of the Java Chip flavor contains 250 calories, 10 grams saturated fat (of 15 grams total), 25 grams sugar and 3 grams protein.
- Alyssa Tucker, Bite of the Best Intern:The Java Chip Frappuccino tasted just like a frozen version of the drink and really captures the original coffee flavor. I loved the sweetness of the dark chocolaty chunks and I highly recommend digging into this frozen treat.
Leave a Comment or Write a Review
Posting Policy
Bite of the Best encourages our readers to comment on and review any products that we write about. Please express your opinions in a mature and civil tone of voice. We will not post rude or otherwise inappropriate material on Bite of the Best. We look forward to your comments and reviews!