PAST BITE
February 18, 2009
What it is: A Cajun seasoning blend
How it comes: 4-, 8- and 16-ounce canister in original blend, 8-ounce for white pepper blend and 4- and 8-ounce for hot blend
Where it is: Stores in Louisiana, slapyamama.com or shop
Who it's for: Anyone who loves Cajun cookin'
Suggested retail price: $1.89 - $2.29; $2.39 - $3.29; $3.59
Nutrition notes: 310 milligrams sodium for original, 250 milligrams for white and 190 milligrams for hot per 1/4 teaspoon
Category: Fabulous Food: The pantry


---
Bonnie: Last month, while in San Francisco to speak at The National Association of Specialty Food Trade Show (AKA the Fancy Food Show), I walked through the exhibits as they were being set up. That's where I met Joe Walker.
With a smile from ear to ear, Joe shared the story of SLAP YA MAMA seasonings (see Bryan's writings) and explained how his whole family worked together in the business. Also being part of a family business, I liked that.
I also liked how his family products were made using real ingredients — no preservatives or flavor enhancers such as MSG. Walker & Son's SLAP YA MAMA Cajun seasonings are a blend of salt, pepper and garlic; the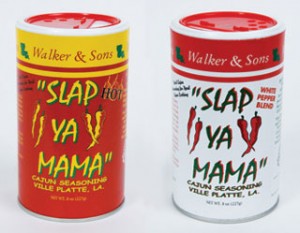 difference is in the peppers. The original contains black and cayenne, the hot more cayenne than black and the white (as you might guess) white and cayenne peppers. Joe explained that the white — their newest blend — is mainly for seafood.
"Our family would love to test your family's products," I told Joe as we exchanged business cards.
As you've surmised, we did test and do like their seasoning blends. Who wouldn't? SLAP YA MAMA adds zing to almost anything, including eggs, chicken, pork, seafood, potatoes, veggies and even popcorn.
While at the "ranch" last week sitting in front of a roaring blaze in the fireplace chatting with my dear friend and fellow foodie Toni Allegra, we somehow got to talking about SLAP YA MAMA seasonings. (The "ranch" is what those visiting the spa Rancho La Puerto in Tecate, Mexico, lovingly call the place!) Toni — whose buddy often brings her a container of SLAP YA MAMA from Louisiana — simply rubs it, and nothing more, into the skin of a whole chicken and then roasts the bird.
Toni mentioned how hot it could be if you added too much seasoning, especially to veggies.
"Is the container red?" I asked.
She nodded, with a quizzical look on her face.
"Try the original version," I suggested when I realized she didn't know that the Walkers made a less-hot version. Note to self: Pick up an original container and sent it to Toni!
Bryan: There are very few savory dishes that I would ever prepare without adding salt, pepper and garlic…and if it's anything for which I want a bit of heat, here comes the red pepper. I might as well go ahead and share a "secret recipe," noting that this combination, plus a dash of ginger powder and smoked paprika, is actually my basic tuna seasoning.
As a rule of thumb, you should salt and pepper everything, especially meat, before you start grilling, sautéing or roasting. Though there are a variety of "exotic" spices that differ dramatically from cuisine to cuisine across the globe…most flavorings will have the simple elements noted above in some varying degree. Depending on the amounts of each in your seasoning mixture, different flavors will emerge.
Today we are focused on Cajun cuisine and the spices that comprise this uniquely American flavor. The Cajun culinary world actually originated with French-speaking immigrants (Acadians) deported by the British from Atlantic Canada to Louisiana. It is a rustic cuisine, generally focused on locally available ingredients with overly simple preparation. Aromatic vegetables (bell pepper, onion and celery) are considered the foundation of Cajun cuisine, with additional seasonings including parsley, bay leaf, scallions and dried cayenne pepper rounding out the intense, unique flavor of this melting pot region. It is easy to trace the roots of these methods as they are directly drawn from the use of the mirepoix — blended diced onion, celery and carrot — in traditional French cuisine.
SLAP YA MAMA Cajun Seasoning is pure Looosiana; a seasoning mixture with the perfect blend of salt, peppers and garlic. The company got started as a convenience store, selling food in a deli…with everything prepared in a roaster (fried chicken, French fries, corn dogs, etc.). Customers began complaining that the food was too salty, so, like any good business, they decided to listen to their clientele and began to make their own seasoning mixture. The result was a spicy Cajun taste with the perfect balance of salt. These mixtures are exactly the spices you would reach for in your spice cabinet, just pre-mixed in the perfect proportions. Each canister contains only salt, pepper, red pepper and garlic. No preservatives. No nothing!
Try Cajun seasoning on almost anything you make to add a spicy kick…. Mix a bit into your hamburger meat for a tangy cheeseburger (topped with pepper jack for an extra kick). My favorite, so far, has been a Cajun spiced pork tenderloin served with mashed sweet potatoes (to control the heat). Though not my creation, SLAP YA MAMA has come up with an amazingly delicious dip, perfect for your next get together and so easy to make!
Hot Crab Dip
16-ounce can of white crab meat
8-ounce package cream cheese, softened
8-ounce package shredded cheese (Mexican, Italian or other flavored cheese)
1 small onion, chopped
1 heaping t horseradish
3 T mayonnaise
1 t Worcestershire sauce
Juice of 1 lemon
Garlic powder (to taste)

SLAP YA MAMA

Cajun Seasoning (to taste)
Combine ingredients until thoroughly mixed. Place in a greased baking dish coated with cooking spray. Bake at 350 degrees F for approximately 30 minutes. Serve with crackers of your choice and enjoy!
The name "SLAP YA MAMA" came about when the creator of the seasoning jokingly said, "When you use this seasoning, the food tastes so good that it will make you want to go home and slap ya mama because she could never make something taste that great."
Eric: I never thought I'd endorse a product with a name like "SLAP YA MAMA." In fact, the first time I heard the name, it reminded me of past euphemistically challenged products such as "Chile Today, Hot Tamale," and "Jamaican Me Crazy." Both of these products had me remembering their names, but failed to leave a lasting impression on my palette. Many companies use the tactic of attaching a catchy name to a less-than-average product (i.e. "Helluva Good Dip," "Phish Food" and the majority of Ben & Jerry's ice cream flavors since the company was bought out by Unilever in the late nineties,) and the end result is a disappointed consumer wondering how he got tricked by a label.
Despite its funny name, though, SLAP YA MAMA is one of those products destined to grace your spice rack. The reason, as my brother pointed out, is that the ingredients are simple and well blended. Simplicity is the key to delicious-tasting food — and the French, regardless of the influence, are the masters of eloquent simplicity! Vive la Cajun!
8 Comments on "SLAP YA MAMA"
donny7 Says:


Dear Bonnie, 2/18/2009

I did a review on January 11, 2009 for Fox River Rice.

At that time I had tried, Pepper & Herb Rice, Rice Pudding and the Rice Creole. All of them were convenient, and had excellent flavor. Now I've cooked and served the other two rice dishes. I've made the Italian Arborio Rice, and the Porcini Orborio Rice. Both were very good, not over powering with their spices, my family and I felt the spices in both of these dishes were blended just perfectly. Not only do they cook up in 20 minutes for each package, but if you have any left over cooked rice, they freeze up very well too. So you can enjoy them at another time. Thank You Fox River, for coming up with a new way to cook up rice dishes. Also for making them easy to use and enjoy. Thank You;

Respectfully,

Mary Carrier

FRANK VERESH Says:


Just discovered your website, will be regular from now on. Frank

Bonnie Tandy Leblang Says:


Welcome to the Bite of the Best community, Frank! If you have a product that you'd like us to consider be sure to complete the "suggest a product" form — you'll find that by scrolling down to the very bottom of the page.

ronsowell Says:


THANK YOU FOR THESE OPPORTUNITIES. EXCELLENT CONCERN AND CARING!!

Bonnie Tandy Leblang Says:


Just sharing as I only learned a moment ago of the friend's name who introduced Toni to Slap Ya Mama: Terri P Wuerthner from Louisiana.

Robert Says:


Way too salty!

Food Blog – Top Rated Food Products – SLAP YA MAMA | Bite of the Best | Marigny Manor House Says:


[...] Food Blog – Top Rated Food Products – SLAP YA MAMA | Bite of the Best. Print PDF Facebook Linkedin Tweet it Bookmark Email Posted in Cheap Eats In the Big Easy! [...]

RobertHate Says:


Youre too salty Robert
Rate This Product
Mouseover the crowns to highlight your rating and then click to record your rating. The rating shown is the average of all the user votes. You can only rate each product once.
Leave a Comment or Write a Review
Posting Policy
Bite of the Best encourages our readers to comment on and review any products that we write about. Please express your opinions in a mature and civil tone of voice. We will not post rude or otherwise inappropriate material on Bite of the Best. We look forward to your comments and reviews!