CITY EDITIONS
October 12, 2011
Finding Polytechnic ON20 could be a tad confusing until you realize th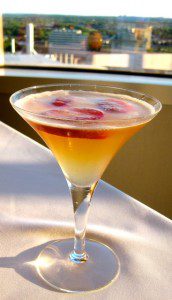 e name isn't O N 2 0, but on 20 – as in located on the 20th floor of the Hartford Steam Boiler Building. The restaurant, the former Polytechnic Club, had been open for 30 years yet just two years ago opened for dinner, only on Friday evenings. The restaurant entered my radar with the release of the 2011/2012 Zagat listing it as the top service and decor in Connecticu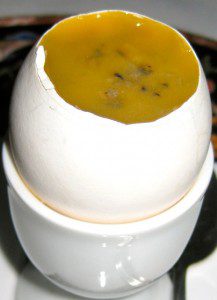 t.
A perfect spot for special occasion serving local, organic  food with attention to detail. While perusing the frequently changing menu, I sipped a Fruit Fusion Martini ($11) made with vodka infused with raspberry and blueberry and flavored with cassis.  The enchanting city and surrounding area view through the huge windows more than made up for that drink being way too sweet.
As the waitress set down the tomato wheat focaccia and Parmesan sliced bread, I mentioned that my dining partner couldn't have gluten. She soon reappeared with warm gluten-free bread!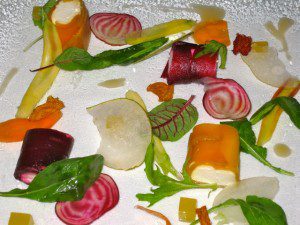 Our meal began with not one, but two treats from the chef to tickle our palates. First, a crea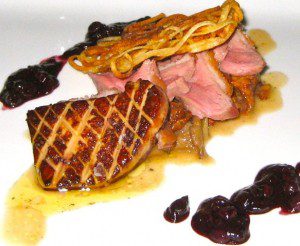 my delicate saffron vanilla clam and mussel chowder containing finely minced, al dente mirepoix, followed by a truffled egg custard served in an egg shell – those alone were worth the drive!
My favorite appetizer is the tender slices of Muscovy duck breast over golden chanterelles, topped with se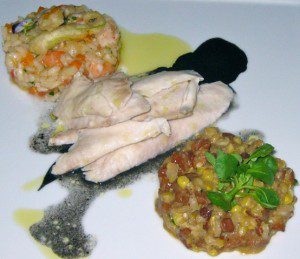 ared foie gras in a golden huckleberry sauce ($15). Also good is the deconstructed heirloom beet & goat cheese salad "Facon Michel Bras" ($11).
The roasted Mediterranean seabass ($28) was the only disappointment, served with a bland corn genoise, tomatoes and one tempura squash blossom.  The d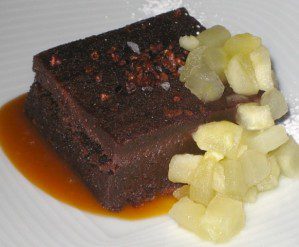 ay's special of John Dory with a delicate shrimp risotto more than made up for that ($28).  The lush Anne Pichon Viognier,  Rhone, France 2009 ($42) matched both dishes well.
Before our dessert arrived, the chef again sent something to amuse our taste buds, this time a caramel mousse with ginger compote.
Our dessert was a rich flourless chocolate torte with apple ginger compote ($9).
Be advised the bill does include 20% service charge. Reservations are a must.
- bonnie
Follow @BonnieBOTB

Polytechnic Club ON20
1 State St Fl 20
Hartford, CT 06103
www.ontwenty.com
(860) 722-5161

Leave a Comment
Posting Policy
Bite of the Best encourages our readers to comment on and review any products that we write about. Please express your opinions in a mature and civil tone of voice. We will not post rude or otherwise inappropriate material on Bite of the Best. We look forward to your comments and reviews!