CITY EDITIONS
June 27, 2010
I spent my college years in Philadelphia. The town is renowned for it's great food, from gourmet dining to the greatest selection of street food carts I've ever come across. I have to say though, despite it being available, 'healthy' is one of the last words I'd naturally associate to Philly food.
My experience was one of fatty delights in my time; Philadelphia did rank amongst the nation's fattest towns then. Favorites included cheesesteaks, chicken cheesesteaks w/ mayo, enormous pizza slices, meatball subs slathered in cheese, and the coup de grace… scrapple, an assortment of pig leavins from a flattop grill, formed into a brick and deep-fried. You can gain a pound just breathing in the air next to Little Pete's.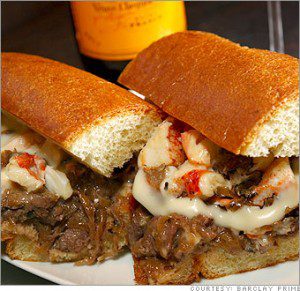 With all the belly-bulging connotations currently attached to the city of brotherly love, I'm glad to a see somebody championing a healthy route. Heck, Rocky didn't run up all those stairs scarfing down cheesy beef!
And who better to lead the cause than one of the most renowned meat-slingers? Philly-Gourmet, a family-owned and operated meat company best known for their all-beef, wafer-thin sandwich steaks destined to be slathered with melted cheese, onions and peppers, has just introduced ready-to-cook quarter-pound Turkey Homestyle Patties…. turning their product line on its head and adding to their repertoire of steak and burgers. White meat is a new direction. But heck, why not try something different?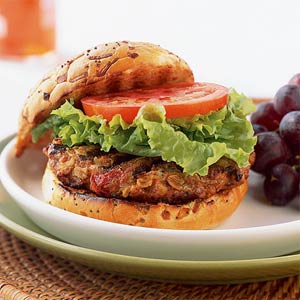 A reduction to anybody's red meat intake is probably a good thing. Most of us eat too much of it anyway, and with BBQ season in full swing, burgers abound. According to a nationwide survey published, turkey burgers are now served in one out of eight restaurants that serve hamburgers, a 10% growth over three years, with ground turkey sales simultaneously growing 10%. What does it all mean? Well, people are (once in a while at least) opting for the white meat burger alternative, and Philly-Gourmet is here to show you theirs.
-bryan
They know their beef, let's see how their foray into chicken goes…. This philly-steak lover awaits your reviews!
One Comment on "Philly Turkeysteak…"
JAMES BROWN Says:


whole sale , contact person.. price invoice
Leave a Comment
Posting Policy
Bite of the Best encourages our readers to comment on and review any products that we write about. Please express your opinions in a mature and civil tone of voice. We will not post rude or otherwise inappropriate material on Bite of the Best. We look forward to your comments and reviews!