CITY EDITIONS
May 18, 2011
I couldn't resist the invite to lunch at Per Se featuring wines from the Gérard Bertrand portfolio.
The luncheon happened the day after the James Beard Foundation's restaurant awards where Per Se won the award for "Outstanding Service," an award given to a restaurant that demonstrates high standards of hospitality and service.
How serendipitous for both the event planner and me.
During the Apéritif, I sampled the crispy and fruity 2010 Gris Blanc Rose, "the clearest Rose in the world" that made its debut in the U.S at this meal, and their Muscato (100% Muscat grapes), also a crisp white, with a light citrus nose. These two — like the other wines paired with the four courses — are all from the Languedoc Rousillon and are drinkable and affordable.  The six that accompanied the first two courses range in price from  $13 – 19 per bottle.
I sat facing the large windows that looked over Columbus Circle and Central Park… it was one of those rare picture perfect Manhattan days with a crystal clear view. That view matched the perfection of the service and meal.
We began with an "Herb Roasted Fillet of Atlantic Halibut with San Marzano Tomato Marmalade,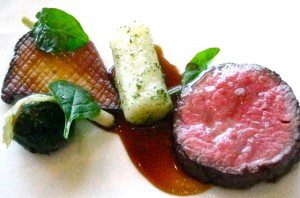 Cassoulet of Beans, Mizuna and Whole Grain Mustard Emulsion" served with three perfectly matched wines, although I preferred the Viognier, with it's tropical fruit and crisp finish.
Viognier, Reserve Speciale 2010
Cigalus White, IGP Pays D'Oc 2009
Aigle Royal, Limoux AOP 2009
Next we had a fork-tender "Rib-Eye of Snake River Farms' Beef with Yukon Gold Potato Confit, Arrowleaf Spinach, King Trumpet Mushroom and Young Onions."  Superb!  And superb along with each of these three wines. The Corbieres, rustic, with along finish; the Pic Saint Loup, more fruit with berries predominant; and the Rouge La Clap, more minerality.
Corbieres, Grenache/Syrah Mourvedre, AOP 2009
"Grand Terroir," Pic Saint Loup AOP 2009
Chateau L'Hospitalet Reserve Rouge, Coteaux du Languedoc La Clape 2009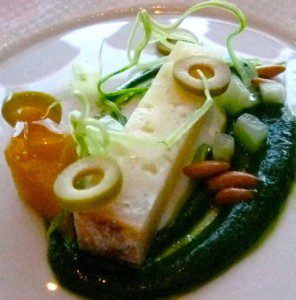 Although the menu listed the "Roncal" course with "pressed fennel," that was nonexistent. Instead, we had a sliver of cheese – which always matched well with any red wine. The fromage with "Apricot Membrillo, Picholine Olives, Toasted Pine Nuts and Arugula Pistou" was served with three of Gerard Bertrand's icon wines, "the best of the best," I was told, costing about $35 a bottle. My preference is the rich, complex La Forge.
La Forge, Corbieres-Boutenac AOP 2008
Le Viala, Minervois La Liviniere 2007
L'Hospitalitas, Coteaux du Languedoc La Clape AOP 2008
And of course, no meal is complete without dessert. "Opera" consisted of Tcho Chocolate Mouse, Whiskey Puree and Almond Ice Cream served with their outstanding sweet dessert wine Legend Vintage Maury AOP 1929.
For more information on the Gérard Bertrand portfolio click here.
- bonnie

Per Se
10 Columbus Cir Fl 4
New York, NY 10019
www.perseny.com
(212) 823-9335
One Comment on "Per Se, Gerard Bertrand Luncheon"
Bonnie from BiteoftheBest.com Says:


I just received an email from the publicist about the prices of the wines served at the luncheon… just in case you are interested:

Aperitif:
Gris Blanc IGP Pays D'OC available $13.99
Crémant de Limoux available $16.99
Muscato available $13.99

First Course:
Viognier, Réserve Spéciale 2010 available $14.99
Cigalus White, IGP Pays D'Oc 2009 available $50.00
Aigle Royal, Limoux AOP 2009 – not available until Fall 2011

Main Course:
Corbières, Grenache/Syrah Mourvèdre, AOP 2009 available $15.99
"Grand Terroir," Pic Saint Loup AOP 2009 available $19.99
Château L'Hospitalet Réserve Rouge 2009, Coteaux du Languedoc La Clape 2009 available $24.99

Cheese:
La Forge, Corbières-Boutenac AOP 2008 available $75.00
Le Viala, Minervois La livinière AOP 2007 available $75.00
Hospitalitas , Coteaux du Languedoc La Clape AOP 2008 available $75.00

Dessert:
Legend Vintage Maury AOP 1929 – limited production & allocation $380
Leave a Comment
Posting Policy
Bite of the Best encourages our readers to comment on and review any products that we write about. Please express your opinions in a mature and civil tone of voice. We will not post rude or otherwise inappropriate material on Bite of the Best. We look forward to your comments and reviews!