TIDBITE
April 18, 2017
Thought in addition to telling you about the amazing chef-driven meals that I experiences that I'd share about quick meals in Miraflores. That includes breakfast at La Paz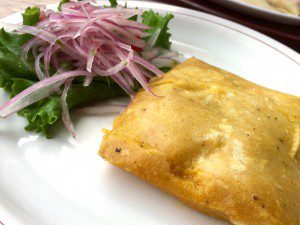 Cafe and a sandwich at La Lucha.
Our flight from NYC arrived at 6 am,  so we dropped our bags at our hotel and went off to discover Lima. When asked, a hotel staff member suggested breakfast at La Paz Cafe, a small cafe only minutes from the hotel where we could dine outside — a must for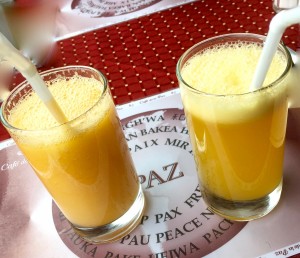 East Coasters getting away from the winter chill.
I tried the local mashed Andean corn stuffed with pork served with some fresh greens and shredded red onions; that came with  passion fruit juice and coffee (~$5.50). The dish was tasty, yet mostly "corn" with a few bites of meat, so I asked for one egg (~$.90). That satisfied. My friend ordered the ham, mushroom and cheese crepe (~$4.90) that also came with fresh squeezed juice and coffee of our choice.  The best part was eating outside by Parque Central and people watching.
La Paz Cafe
Calle Lima 351m Miraflores Lima 18, Peru
Phone: +51 1 2416043
On the other hand, the food at La Lucha is worth seeking when in need of a quick satisfying bite. It's a chain of quick grab and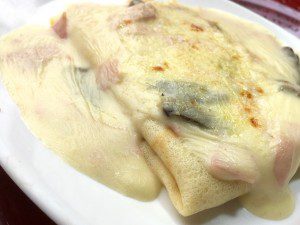 go really good sandwiches and juices. We stopped at the one not far from the hotel in Miraflores, the night we  arrived back in Lima.  We were starved. The sandwiches (one with fresh sliced turkey, the other fresh pork with salsa criolla) on a fresh roll,  beer and fries hit the spot, as did the friendly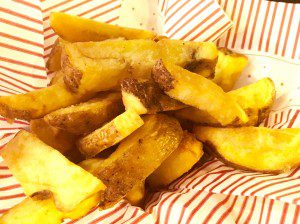 staff. I recommend a visit!
La Lucha
Av. Sta. Cruz 847, Miraflores 15074, Peru
Save
Leave a Comment
Posting Policy
Bite of the Best encourages our readers to comment on and review any products that we write about. Please express your opinions in a mature and civil tone of voice. We will not post rude or otherwise inappropriate material on Bite of the Best. We look forward to your comments and reviews!