CITY EDITIONS
October 15, 2011
Ocean Spray will debut an open-air, pop-up restaurant inside a cranberry bog at New York City's Rockefeller Center this coming Tuesday, October 18 from 2 to 3 pm.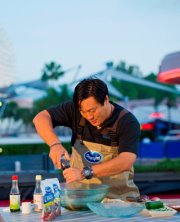 This year, they are celebrating not only the taste, health and heritage of the cranberry, but also how to prepare and pair fall's favorite fruit. The grower-owned cooperative invited chef Ming Tsai to host this public culinary experience, the "Cranberry Mix & MINGle."
Thirty lucky guests will enjoy cranberry-infused mocktails and appetizers amidst a 1,500-square-foot bog filled with 2,000 pounds of floating cranberries. The ballot drawing will be open to bog visitors from 8 a.m.-12:00 p.m. the day of the even
To celebrate the  cranberry harvest, third- and fourth-generation Ocean Spray cranberry growers will also be available to educate consumers about the harvest process and to share personal family farming stories.
If you're not in NYC, you can get involved by tuning into the interactive online interview with Chef Ming Tsai, broadcasted live from the bog, from 12:30-1:30 p.m. by clicking here and then the "Ask Ming" tab or submitting questions via Twitter using hashtag #askMing.
Leave a Comment
Posting Policy
Bite of the Best encourages our readers to comment on and review any products that we write about. Please express your opinions in a mature and civil tone of voice. We will not post rude or otherwise inappropriate material on Bite of the Best. We look forward to your comments and reviews!