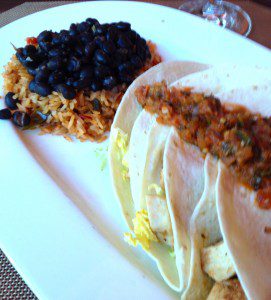 Napa at the Peabody in Orlando is where I met a business associate for a light bite last month while attending the Pillsbury Bakeoff. Napa, of course refers to the wine country, and so serves what they refer to as modern California wine country cuisine.
I realized I had selected the "place" to dine in the hotel when we saw Martha Stewart and her crew come in.  Our table was  in the dining room, right outside the closed off, glassed in one where they  ate.
The golden diver scallops were grilled perfectly and sat atop a roasted cauliflower risott0 with smoked bacon, forest mushrooms, toasted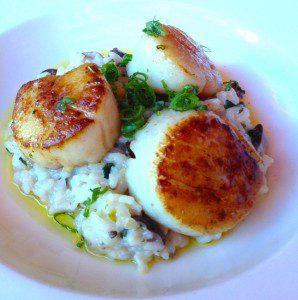 squash seed ($20). Also good were the three soft tacos filled with blackened mahi-mahi, topped with a spicy Yucatan salsa and served wtih  black beans and Caribbean jasmine rice ($17).
It's THE place to go if you're staying at the Peabody.
– bonnie
Follow @BonnieBOTB

Napa at The Peabody
I-Drive/Universal
9801 International Drive
(407) 345-4570
peabodyorlando.com