TIDBITE
March 5, 2012
I don't know about you, but my mother's handbook says I must visit wherever my kids are. That rule has taken me around the world but this time, to the alpine-inspired sanctuary at Montage Deer Valley (Utah) earlier this year.  Montage has ski in, ski out access to Deer Valley, voted the #1 ski resort by the readers of SKI magazine, many years in a row. Voters say it's "skiing in the lap of luxury." It is.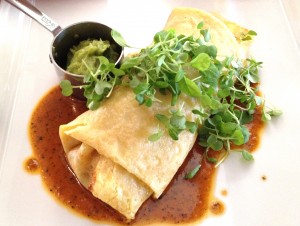 And luxury is the way to describe Montage, a luxury resort with personalized service that opened December 2010. (The brand has two other resorts, both located in California.)
I love inspecting all the amenities when I check into my room any resort.  Montage's are lavish, including goodies like a Japanese sisel bath brush and salts. While I was investigating, the door bell rang with a server bringing me a fruit bowl overflowing with plump fresh blueberries, raspberries, blackberries, apples, a pear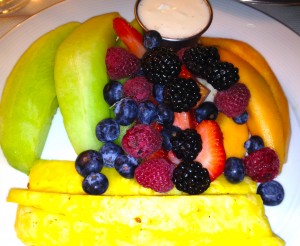 , banana and clementine. I turned on the gas fireplace with a flip of the switch, opened the door to my private balcony that overlooked the Wasatch mountains as I wanted  fresh air, wrapped in my plush robe, plopped on my comfy bed and popped fresh berries into my mouth, feeling oh, so decadent.
I met Dan Howard, Montage's Director of Public Relations for lunch my first day at Apex, one of the resort's four restaurants. It's a mountain grill serving inside and out on the sunny deck. The food is inspired by fresh ingredients.
I sampled their signature Blackened Chicken Crepe ($20),  a tender crepe wrapped around blacked chicken, caramelized onion, roasted peppers and gruyere cheese, then topped with microgreens and served with fresh guacamole. Dan ate the House Smoked Turkey Club ($17) layered with smoked bacon, heirloom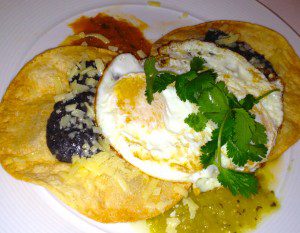 tomatoes, bibb lettuce, on asiago bread spread with avocado aioli and served with potato chips.
Later during a tour of the kitchen, I learned from Stan Koslowski — the in-house butcher — that the tender turkey for that sandwich arrived fresh, was then brined before being smoked and sliced. Montage pays that much attention and makes most everything from scratch, including the hand-dipped chocolates left on the bed at night.
Each morning I took the free exercise "wellness" classes offered in their spacious fitness center.  And of course, I had to sample Spa Montage. This  35,000-foot oasis is free to resort guests, with relaxation areas, steam, sauna, whirlpool, deluge showers and many treatments. I tried my first hot and cold stone massage: during your mainly hot-stone massage, the masseuse warns that the next one will be cold. Ice cold. Invigoratingly relaxing ($250 for 90 minutes).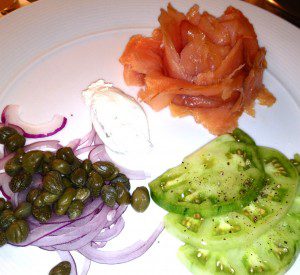 With the room service incredible, I decided that's the way I'd have my daily breakfast. No soggy, cold food here.  Seasonal organic fresh beautifully displayed fruit ($15). The most delicate huevos rancheros ($18) I've sampled.  Seriously not heavy gloppy ones, but crispy fried corn tortillas atop rancheros and tomatillo sauces, topped with
black beans and two over-easy eggs garnished with fresh cilantro and served with guacamole, pico di gallo and sour cream. Yum. I also sampled their smoked salmon ($21) that attractively came with fresh heirloom tomatoes, sliced red onions, capers, cream cheese and bagel.
A crew from KTLA television in LA was there while I was, filming a five-part series covering all aspects of the resort. (I kept hiding from the cameras!)  They coverd the restaurants, residences (You can own a place at Montage!),  spa, skiing and Monty, the canine ambassador.
I want to share those segments (1, 2, 3, 4, and 5) with you, as they whet your appetite for a visit to this spectacular report. Click on a number to see each segment. One note if you watch all five segments:  Don't bother texting the code word of the day as the prize package has already been awarded!!
Word has it New Yorkers may just have their own Montage on the upper east side…. perhaps in the old Helmsley building. Stay tuned.
- bonnie
Leave a Comment
Posting Policy
Bite of the Best encourages our readers to comment on and review any products that we write about. Please express your opinions in a mature and civil tone of voice. We will not post rude or otherwise inappropriate material on Bite of the Best. We look forward to your comments and reviews!