CITY EDITIONS
June 22, 2013
Don't miss Melibea ("Mellie-bay-a"), a new contemporary Mediterranean eatery in the West Village that opened in April, next door to its sister restaurant Barraca. At Melibea, Madrid native chef Jesus Núñez's creative offerings are inspired by the food of Greece, North Africa, Italy and the Middle East. Think traditional dishes with delicious unexpected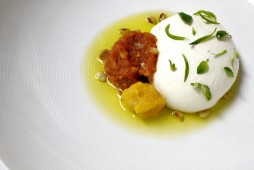 preparations or accents that surprise and delight.
As their guest, our waiter suggested the spicy Spanish Jean Leon Reserva Cabernet Sauvignon, 2005 with high tannins and lots of red fruit that worked well with the food. We asked that dishes be brought out one or two at a time so that we could savor their amazing flavors.
We started with Matabucha ($8), a Moroccan-inspired cold salad with roasted peppers, roasted tomatoes, olive oil, garlic and pine nuts served with toasted challah bread. Think a heavy salsa.
Do not miss the cream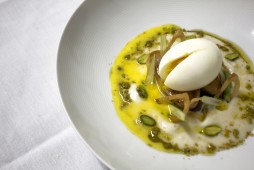 y lemon-zest flavored stuffed mozzarella (a Spanish burrata) with a refreshing tomato confit and fresh herbs, served with focaccia ($13). Truly orgasmic!
Núñez signature dish is the "study of tomatoes," with heirloom cherry tomatoes, plum tomatoes and a fried green tomato, drizzled in an Asian-flavored sauce (with soy, leeks, edible kelp and sesame). The chef sprinkles the fruit's powder on the plate where then he writes "tomato." (Déjà vu as I enjoyed this chef's spectacular not-to-be missed dish at a special wine luncheon last year at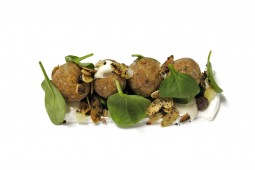 Gastroarte – click the link to see the dish!)
Next we tried the five-minute egg over a rich sunchoke cream, heavenly onion marmalade and seared foie gras ($18). The dish — like all Núñez dishes— is meant to be eaten with all the flavor components together in one bite. For this dish, slice the egg and toss the ingredients so the egg yolk sauces it all.
In the un-traditional falafel salad, a half-cooked chickpea in the middle of each falafel ball provides a crunchy texture. Each ball is served atop spinach, almonds, raisins, Labneh cheese and a tahini-lemon dressing ($12).
Up until this point everything was perfection. I'm not sure what happened in the kitchen, but the rest of our dishes appeared all at the same time and nothing was hot. We sampled the remaining five dishes and didn't say a thing because we were happily satiated from what we'd already tasted.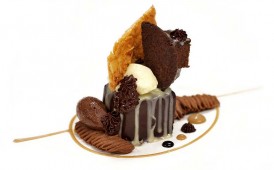 We tried the a large raviolini stuffed with ricotta, bacon and basil ($16) with spinach and Brussels spouts in an almond sauce; a cold shaved Brussels spouts salad and crispy fried cauliflower with raisins and spicy mayo ($7).  Our cod fish was cooked pil pil style, a Basque-style process of slow cooking the fish in an emulsion of olive oil and the natural gelatin from the skin. It came with pumpkin and squash over bulgur ($27); the filled branzini had a light sweet sauce and seasonal veggies ($28).
Desserts thought were back on target – with Chocolatissimo, a chocolate lovers delight of bittersweet chocolate cake with white chocolate ganache, cocoa beans and cookie on top ($11); and a lavender crème brûlée with apricots ($11) .
I learned the name Melibea is named for a fifteenth-century  play  —"La Celestina" by Fernando de Rojais — the Spanish Romeo and Juliet love story. So the decor resembles a theatre with the bar as the stage and seating area the  mezzanine. Near the entrance are pulled back curtains and lots of old trunks. In fact, the hostess stand is made of old steamer trunks.
I recommend Melibea highly!
- bonnie
Melibea
2 Bank Street
New York, NY 10014
(212) 463-0090

Rate This Product
Mouseover the crowns to highlight your rating and then click to record your rating. The rating shown is the average of all the user votes. You can only rate each product once.
Leave a Comment or Write a Review
Posting Policy
Bite of the Best encourages our readers to comment on and review any products that we write about. Please express your opinions in a mature and civil tone of voice. We will not post rude or otherwise inappropriate material on Bite of the Best. We look forward to your comments and reviews!