TIDBITE
March 29, 2011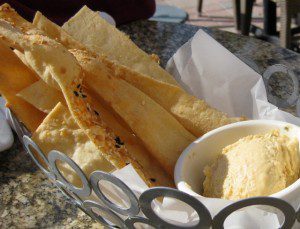 I'm not a snowbird, but after this winter could certainly become one.
So when I met my friend Robin for lunch in January in Boca Raton (FL), I insisted that our nibble be outside. She accommodated.
We stopped at Max's Grille in Minzer Park and made sure our table was in the sun. We nibbled their fresh crispbreads and homemade bean spread while perusing the menu and sipping on a Fini Pino

Grigio ($35).
We then shared a tasty Margherita Pizzette with San Marzano Tomatoes, housemade mozzarella, fresh arugula and garlic oil ($10).  Delicious, crisp, a perfect snack. Glad we had only eaten a smidgen of the bread.
The only disappointment was the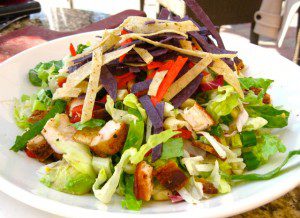 first offering of the Southwestern Cobb salad  with red chili grilled chicken, grilled corn, avocado, bacon, scallion, Monterrey Jack cheese and tortilla strips  all in a Chipotle-lime vinaigrette. Problem was the avocado has spoiled. The waitress didn't make a fuss, just took it and returned with another version sans avocado. Quite tasty and recommendable, once the avocado was removed ($16).
- bonnie
Max's Grille
404 Plaza Real
Boca Raton, FL 33432
561.368.0080
www.maxsgrille.com
3 Comments on "Max's Grille, Boca Raton"
Arlene Coleman Says:


I have had the Chilled Water Mellon Soup at Max's Grille and was amazed how wonderful this soup was. Anyway to get the receipe. Greatly appreciated! I come there regularly.

Arlene Coleman

Bonnie from BiteoftheBest.com Says:


Arlene, I just contacted the general manager of Max's Grille with your request. Stay tuned!

Bonnie from BiteoftheBest.com Says:


I just heard back from the GM who said, "I will forward your request to the chef. Unfortunetly he is on vacation until the 21st. It is a fabulous Watermelon Gazpacho."
Leave a Comment
Posting Policy
Bite of the Best encourages our readers to comment on and review any products that we write about. Please express your opinions in a mature and civil tone of voice. We will not post rude or otherwise inappropriate material on Bite of the Best. We look forward to your comments and reviews!