RECIPES
April 22, 2012
Even if you don't watch Mad Men, you've heard about the hot series based on life in the '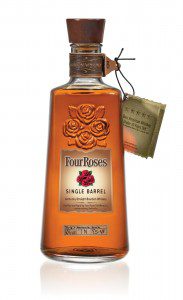 60s and Don Draper, it's lead character. The series is so hot that clothing styles and the cuisine and cocktails of that era have returned to fashion.
The Old Fashion — the  classic cocktail made using Four Roses bourbon — is featured in the new Mad, Mad, Mad, Mad Sixties Cookbook by Rick Rodgers.
According to Rick, "It's called an Old-Fashioned because it is the original cocktail recipes: whiskey, sugar and bitters."
Serve his Old-Fashioned to friends while watching Don Draper and gang on Sunday evenings. Will Betty trim down? Will she stayed married to Henry Francis? Will Don's marriage to Megan last? Will Pete have an affair? Tune in on tonight to learn the latest…
Old Fashioned
1 sugar cube
2 or 3 dashes aromatic bitters (such as Angostura)


2 1⁄2-oz. Four Roses Bourbon Single Barrel
Soda water
Orange slice, for garnish
Maraschino cherry, for garnish
Lemon zest twist, for garnish
Put the sugar in an old-fashioned glass and moisten with the bitters. Crush them together with a muddler. Add the whiskey and fill the glass with ice. Stir well. If desired, fill the glass with soda water. Add the orange and cherry, and lemon twist, if using. Serve.
Makes 1 drink
- bonnie

Leave a Comment
Posting Policy
Bite of the Best encourages our readers to comment on and review any products that we write about. Please express your opinions in a mature and civil tone of voice. We will not post rude or otherwise inappropriate material on Bite of the Best. We look forward to your comments and reviews!