CITY EDITIONS
June 21, 2010
It was my first time in New Orleans, a town I'd been repeatedly told that I just HAD to visit since I moved to Atlanta a few years back. Heck, who am I to argue? Those who know me well can stop laughing now…
Not only was I informed of the 'enchanting' nature of 'Nawlins (as I've been told to pronounce it), but I was almost browbeaten with how AMAZING the food is. New Orleans is one of America's first true 'melting pot' cities; where French, Spanish, Caribbean and 'American' cuisines have collided, creating a truly unique food culture. I was excited to say the least.
Though the NOLA Jazzfest was the 'official' excuse for the road trip, food was heavily on my mind when heading southward towards the Gulf of Mexico. Everyone I know with a foodie opinion wanted to give me their top choice: "You must try a crawfish beignet", "You must get a burger at Port of Call", 'You must try the Sazerac at the Napoleon House", "Don't leave town with having a fried oyster po boy".
Though I love to have foodie recs, I really only had two questions as I headed towards Thomas Jefferson's famous purchase.
1. What the heck is Po Boy?
- Thank you Wikipedia, yes.. rest of the world; Po Boy is just 'Nawlins speak for a 'sub' or 'hoagie'
2. What does Bonnie think I should eat?
- While 'asking your mother' might not sound cool, who am I to argue with so much food experience? Again, Bonnie, stop laughing!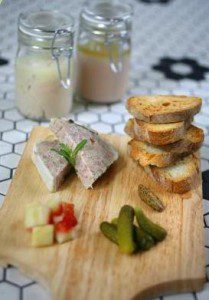 Bonnie's advice, you must try Besh. I had thought as much, but with such a resounding recommendation, the reservation was set!
Who or what is Besh you ask? John Besh is an increasingly well-known chef and food personality. A native son of New Orleans, Besh is truly dedicated to the culinary culture of Louisiana. He has six highly acclaimed restaurants (August, Besh Steak, Lüke, La Provence, American Sector, and Domenica) and his first cookbook (My New Orleans) was recently published in October 2009. Chef Besh was one of the first restaurateurs to re-enter New Orleans following the Katrina disaster and has been absolutely instrumental in rebuilding the food industry in the city. Besh has been honored by Food & Wine as one of the "Top 10 Best New Chefs in America" and the James Beard Foundation as the Best Chef in the Southeast.
Quite the resume… How can you pass up the opportunity to dine with such a chef?
Though there were more than a few restaurants to choose from, my friend and I chose Lüke, Chef Besh's homage to the grand old Franco-German brasseries that once reigned New Orleans. Lüke's dining space is bustling, yet nostalgic, with white paper table coverings belying the quality of the food that adorns them. Since opening in 2007, Lüke has been a critic favorite, and I've got nothing but more praise to heap upon the fledgling establishment.
So.. the food.. Oh, the food!
We had some great meals while in New Orleans, but I can say in all honestly that Luke was our favorite dining experience by far! The atmosphere is very casual, yet upscale and contemporary. The waitstaff is friendly and knowledgeable, and the location is tremendous (especially if you're staying in the French Quarter).
We started with a pair of Sazeracs (America's FIRST cocktail), a New Orleans signature drink made from rye, sugar, bitters and Herbsaint. I loved it, being such a close cousin of my favorite drink, the Manhattan. Our drinks were accompanied by a half-dozen local Oysters, sweet on their own, but wonderful with a touch of horseradish cocktail sauce.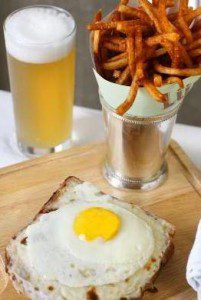 Hors d'oeuvres were followed by appetizers. We went for the real surf and turf experience, trying the Crabmeat Maison (a handmade tower of delectably soft, perfectly seasoned crabmeat tossed with herbs, and served over slightly bitter greens) and Rillette of Berkshire Pork (think Pork Pate, with a spicy coarse mustard, pickled watermelon rind and fruit jelly acting as accoutrements). Both were wonderful, and each played well with each other making for a very well-rounded and satisfying first course (all washed down with a Trimback Gewurztraminer).
Main courses consisted of Croque Madame with housemade frites. The frites almost stole the show (they must have been cooked in duck fat or something to be that rich!) until the piece de resistance hit the table; Louisiana Shrimp 'en cocotte' with white corn grits and Andouille sausage. This is far and away the best shrimp and grits I've ever had! The dish was introduced to me when I first moved down South, but I will now always think of Lüke when I think of it.
If you're in New Orleans, you must try Lüke. Enough said. Well one more thing.. Get the Shrimp 'n Grits!
-bryan
Lüke
333 Saint Charles Ave
New Orleans, LA 70130
www.lukeneworleans.com
504-378-2840
3 Comments on "Besh's Best – Lüke New Orleans"
matt Says:


er, no, a poboy is not the same as a sub or hoagie. its the bread — new orleans french bread is entirely different: crispy & flaky on the outside, soft and airy on the inside. a subtle yet substantial difference. the fillings of a poboy are usually very different than a typical sub as well — fried shrimp, fried oyster, and sloppy roastbeef being the three most popular.

New Orleans for less | cheapest fly tickets Says:


[...] today is James Beard Award winner John Besh, famous for restaurants such as August and Lüke. Bite of the Best labels Lüke, "Besh's homage to the grand old Franco-German brasseries that once reigned [in] [...]

New Orleans for less | Departure Gate presents … Says:


[...] today is James Beard Award winner John Besh, famous for restaurants such as August and Lüke. Bite of the Best labels Lüke, "Besh's homage to the grand old Franco-German brasseries that once reigned [in] [...]
Leave a Comment
Posting Policy
Bite of the Best encourages our readers to comment on and review any products that we write about. Please express your opinions in a mature and civil tone of voice. We will not post rude or otherwise inappropriate material on Bite of the Best. We look forward to your comments and reviews!