April 16, 2012
Varieties: Spinach Artichoke Pasta, Roasted Garlic Chicken Farfalle, Sesame Chicken, Chicken Fettuccine
Details: $3.99 per 9.5-ounce bag
Availability: Nationally available

Kashi has launched all-natural, frozen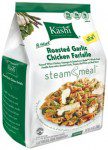 steam meals in four varieties.
Chicken Fettuccine provides 5 grams fiber, 17 grams protein and 43 grams  whole grains; Spinach Artichoke, a vegetarian option, has 13 grams protein, 8 grams fiber and 41 grams whole grains; Roasted Garlic Chicken Farfalle contains 15 grams protein, 4 grams fiber and 37 grams whole grains; and Sesame Chicken provides 17 grams protein,  8 grams fiber and 35 grams whole grains. Available nationally for $3.99 per 9.5-ounce bag.
- bonnie : These are tasty low-calorie nutritious frozen meal options.
Follow @BonnieBOTB
One Comment on "Kashi Frozen Meals"
orbitmars@gmail.com Says:


BOYCOTT KASHI FOR INCOMPLETE/FALSE INFORMATION AND FOR USING GMOS IN THEIR PRODUCTS:

"It turns out the soy in Kashi cereals comes from genetically modified Roundup-ready soybeans, which have a gene inserted in them that allows the crop to withstand otherwise lethal doses of the weed killer."

IT IS **NOT** NATURAL TO BE EATING GMOS. PERIOD.

http://articles.mercola.com/sites/articles/archive/2012/05/19/kellogs-kashi-brand-with-ge-soy.aspx?e_cid=20120519_DNL_art_1
Leave a Comment or Write a Review
Posting Policy
Bite of the Best encourages our readers to comment on and review any products that we write about. Please express your opinions in a mature and civil tone of voice. We will not post rude or otherwise inappropriate material on Bite of the Best. We look forward to your comments and reviews!