TIDBITE
June 2, 2010
There are certain words synonymous, in American pop-culture, with Las Vegas, NV…and hopefully, one day, tapas will be one of them…
Gambling, indulgence and excitement are just a few of the adjectives used to describe the nightlife on the Vegas strip, but for a food aficionado on a stop-over, these terms apply to a completely different world of sin; that of the restaurant industry. For a foodie strolling down the "new" Vegas strip, the choices for dining seem endless – the true gamble is in choosing the right restaurant; anyone will double-down on an 11, but not everyone will realize that spending extra money on an amazing meal can make the Vegas experience undeniable.
When I mentioned to a few friends that I'd be stopping over in Vegas, it was as if I openly asked for advice on where to eat. (I guess you can understand the company I keep.)
"You HAVE to try this French Bistro across from the Bellagio fountains!, it's to die for!"
"No wait, what was the name of that place in the lobby of the casino where we ate at the buffet at 3am? All the shrimp you can eat, it was awesome!"
Although the advice left me uncertain as to where to eat, it was a great starting point for my Vegas adventure (which turns out would only last one night). Of the myriad places to dine, there was one restaurant in particular that seemed to be on the tip of everyone's tongue.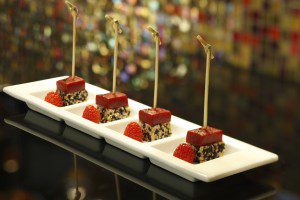 I arrived in Vegas after an 8-hour drive from San Francisco (with a few stops in between) – the drive in was scarily reminiscent of the scene from Swingers – the anticipation was building, but by the time we arrived, the exhaustion had checked-in with us. Accompanying me on the trip was a friend from college, a half Dutch/half Spanish world traveler with an affinity for good food and great service. For both of us, it was our first time in Vegas, and the Luxor, was happy to accommodate us at an incredibly low rack rate (bless you yield management). We dropped our bags and, literally, ran to the restaurant for our 9:30pm reservation. The restaurant, part of the Aria Las Vegas resort, was Julian Serrano, and the experience was nothing short of spectacular.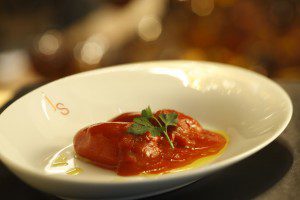 Julian Serrano, managed by Albert Najem, is one of the newer restaurants in the city located in the lobby of the Aria Resort and Casino. Regardless of the chef being the acclaimed namesake, and a devoted restaurateur in Vegas (i.e. Picasso), the restaurant stands on its own as a destination for Spanish-style tapas.
Breathless and slightly exhausted, we arrived and were immediately met by Clarissa Castillo, Julian Serrano's Sommelier – a woman with a passion for Spanish wines, ports and everything sherry. Full of excitement, she seated us at our table, presented the menus and welcomed us. As with most restaurant tastings, particularly those with small tasting plates, I asked for a "tasting-menu" to be sent out from the chef — those dishes that best represent the message and direction of the restaurant. From Clarissa, I asked for the best pairing of wine that would accompany the dishes. N.B. Asking the chef to send out favorite dishes can be a great way to experience a restaurant — just be aware that your budget might not match the chefs ambition.
Flowing from the kitchen in a non-stop parade were:
Raspberry tuna & wasabi skewers
An eclectic seafood medley of lobster, clams, shrimp and scallops
Shrimp ceviche
Almond stuffed, bacon wrapped dates
Serrano jambon
Stuffed piquillo peppers
Marinated lamb chops with potato foam
The piece de resistance: Seafood paella
I was not only impressed by both the food & wine, buy my Spanish friend, who grew-up with traditional tapas, was pleasantly surprised by the taste(s). At one point, he said, it was reminiscent of the street-style tapas you can find in the alleys of Barcelona. As a foodie, I could tell that some of Serrano's influences stemmed from that of Jose Andres and Ferran Adria, two acclaimed chefs from Spain. As many great artists do, Serrano was able to borrow from "master" influences to create a taste unique to Las Vegas. The presentation and taste of the food, the beautiful decor of the restaurant, the educated service staff and the dedication to authentic flavor are all reminders that sometimes in Vegas, you don't have to gamble to enjoy an amazing experience.
-eric
Julian Serrano
Aria (CityCenter)
3730 Las Vegas Blvd S
Las Vegas, NV 89109
702-590-8520
http://www.arialasvegas.com/dining/julian-serrano.aspx
Leave a Comment
Posting Policy
Bite of the Best encourages our readers to comment on and review any products that we write about. Please express your opinions in a mature and civil tone of voice. We will not post rude or otherwise inappropriate material on Bite of the Best. We look forward to your comments and reviews!