CITY EDITIONS
March 23, 2011
The James Beard Foundation recently announced the final nominees for the 2011 James Beard Foundation Awards for Restaurant and Chef Awards. Winners will be announced on May 9, 2010 where Tom Colicchio, Ming Tsai and Traci Des Jardins will host the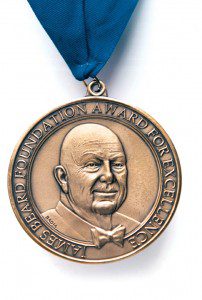 James Beard Foundation Awards Ceremony and Gala Reception at Lincoln Center's Avery Fisher Hall in New York City. During the event, which is open to the public, awards for the Restaurant and Chef and Restaurant Design and Graphics categories will be handed out, along with special achievement awards including Humanitarian of the Year, Lifetime Achievement, Who's Who and the America's Classics award honorees. During the Gala Reception immediately following, top culinary talents from across the country will serve dishes that reflect the nation's diverse and multi-cultural influences in a nod to this year's awards theme, "The Ultimate Melting Pot."
2011 James Beard Foundation Restaurant and Chef Awards
Best New Restaurant Presented by Mercedes-Benz.  A restaurant opened in 2010 that already displays excellence in food, beverage, and service and is likely to have a significant impact on the industry in years to come.
ABC Kitchen – NYC
Chef/Owner: Jean-Georges Vongerichten
Owner: Phil Suarez
Benu – San Francisco
Chef/Owner: Corey Lee
Girl & the Goat – Chicago
Chef/Owner: Stephanie Izard
Owners: Kevin Boehm, Rob Katz, and Daniel Russo
Menton – Boston
Chef/Owner: Barbara Lynch
Torrisi Italian Specialties – NYC
Chefs/Owners: Mario Carbone and Rich Torrisi
Outstanding Chef Award Presented by All-Clad Metalcrafters. A working chef in America whose career has set national industry standards and who has served as an inspiration to other food professionals. Candidates must have been working as chefs for at least the past 5 years.
José Andrés – Minibar, Washington, D.C.
Gary Danko – Restaurant Gary Danko, San Francisco
Suzanne Goin – Lucques, Los Angeles
Paul Kahan – Blackbird, Chicago
Charles Phan – The Slanted Door, San Francisco
Outstanding Pastry Chef Award Presented by All-Clad Metalcrafters. A chef or baker who prepares desserts, pastries, or breads and who serves as a national standard-bearer for excellence. Candidates must have been pastry chefs or bakers for at least the past 5 years.
Joanne Chang- Flour Bakery + Café, Boston
Patrick Fahy – Blackbird, Chicago
Dahlia Narvaez- Osteria Mozza, Los Angeles
Angela Pinkerton – Eleven Madison Park, NYC
Mindy Segal – Mindy's HotChocolate, Chicago
Outstanding Restaurant Award A restaurant in the United States that serves as a national standard-bearer for consistent quality and excellence in food, atmosphere, and service. Candidates must have been in operation for at least 10 or more consecutive years.
Blue Hill, NYC
Chef/Owner: Dan Barber
Owners: David Barber and Laureen Barber
Boulevard, San Francisco
Chef/Owner: Nancy Oakes
Owner: Pat Kuleto
Eleven Madison Park, NYC
Owner: Danny Meyer
Highlands Bar and Grill, Birmingham, AL
Chef/Owner: Frank Stitt
Owner: Pardis Stitt
Vetri, Philadelphia
Chefs/Owners: Marc Vetri and Jeff Benjamin

Outstanding Restaurateur Award
A working restaurateur who sets high national standards in restaurant operations and entrepreneurship. Candidates must have been in the restaurant business for at least 10 years. Candidates must not have been nominated for a James Beard Foundation chef award in the past 10 years.
Bruce Bromberg and Eric Bromberg – Blue Ribbon Restaurants; NYC
Tom Douglas – Dahlia Bakery, Dahlia Lounge, Etta's, Lola, Palace Kitchen, Seatown Seabar & Rotisserie, and Serious Pie; Seattle
Pat Kuleto – Boulevard, Epic Roasthouse, Farallon, Jardinière, Martini House, Nick's Cove, and Waterbar; San Francisco
Richard Melman – Lettuce Entertain You Enterprises; Chicago
Phil Suarez – ABC Kitchen, Co., Gigino Trattoria, Gigino Wagner Park, Jean Georges, JoJo, J&G Steakhouse, Market, The Mark Restaurant by Jean Georges, Mercer Kitchen, Perry St, Pipa, Prime Steakhouse, Spice Market, and wd~50; Various Cities
Outstanding Service Award Presented By Stella Artois. A restaurant that demonstrates high standards of hospitality and service. Candidates must have been in operation for at least the past 5 years.
Canlis – Seattle
Owners: Brian Canlis and Mark Canlis
Emeril's – New Orleans
Chef/Owner: Emeril Lagasse
La Grenouille – NYC
Owners: Charles Masson and Gisèle Masson
Per Se – NYC
Chef/Owner: Thomas Keller
Topolobampo – Chicago
Chef/Owner: Rick Bayless
Outstanding Wine and Spirits Professional Award Presented by Southern Wine & Spirits of New York
A winemaker, brewer, or spirits professional who has had a significant impact on the wine and spirits industry nationwide. Candidates must have been in the profession for at least 5 years.
Sam Calagione, Dogfish Head Craft Brewery – Milton, DE
Merry Edwards, Merry Edwards Winery – Sebastopol, CA
Paul Grieco, Hearth – NYC
Rajat Parr, Mina Group – San Francisco
Julian P. Van Winkle, III, Old Rip Van Winkle Distillery – Louisville, KY
Outstanding Wine Service Award A restaurant that displays and encourages excellence in wine service through a well-presented wine list, a knowledgeable staff, and efforts to educate customers about wine. Candidates must have been in operation for at least 5 years.
A16 – San Francisco
Wine Director: Shelley Lindgren
Blackberry Farm – Walland, TN
Wine Director: Andy Chabot
Frasca Food and Wine – Boulder, CO
Wine Director: Bobby Stuckey
Picasso at Bellagio – Las Vegas
Wine Director: Robert Smith
The Modern – NYC
Wine Director: Belinda Chang
Rising Star Chef of the Year Award A chef age 30 or younger who displays an impressive talent and who is likely to have a significant impact on the industry in years to come.
Aaron London, Ubuntu – Napa, CA
Thomas McNaughton, flour + water – San Francisco
Gabriel Rucker, Le Pigeon – Portland, OR
Christina Tosi, Momofuku Milk Bar – NYC
Sue Zemanick, Gautreau's – New Orleans
Best Chefs in America Presented by Groupon. Chefs who have set new or consistent standards of excellence in their respective regions. Each candidate may be employed by any kind of dining establishment and must have been a working chef for at least the past 5 years. The 3 most recent years must have been spent in the region where the chef is presently working.
Best Chef: Great Lakes (IL, IN, MI, OH)
Michael Carlson, Schwa – Chicago
Curtis Duffy, Avenues at the Peninsula – Chicago
Bruce Sherman, North Pond – Chicago
Paul Virant, Vie – Western Springs, IL
Alex Young, Zingerman's Roadhouse – Ann Arbor, MI
Best Chef: Mid-Atlantic (D.C., DE, MD, NJ, PA, VA)
Cathal Armstrong, Restaurant Eve – Alexandria, VA
Johnny Monis, Komi – Washington, D.C.
Peter Pastan, Obelisk – Washington, D.C.
Maricel Presilla, Cucharamama – Hoboken, NJ
Michael Solomonov, Zahav – Philadelphia
Best Chef: Midwest (IA, KS, MN, MO, NE, ND, SD, WI)
Justin Aprahamian, Sanford – Milwaukee
Isaac Becker, 112 Eatery – Minneapolis
Colby Garrelts, Bluestem – Kansas City, MO
Tory Miller, L'Etoile – Madison, WI
Lenny Russo, Heartland – St. Paul, MN
Best Chef: New York City (Five Boroughs)
Michael Anthony, Gramercy Tavern
April Bloomfield, The Spotted Pig
Wylie Dufresne, wd~50
Gabrielle Hamilton, Prune
Michael White, Marea
Best Chef: Northeast (CT, MA, ME, NH, NY STATE, RI, VT)
Tim Cushman, o ya – Boston
Krista Kern Desjarlais, Bresca – Portland, ME
Gerry Hayden, The North Fork Table & Inn – Southold, NY
Matt Jennings, La Laiterie – Providence
Tony Maws, Craigie On Main – Cambridge, MA
Eric Warnstedt, Hen of the Wood – Waterbury, VT
Best Chef: Northwest (AK, ID, MT, OR, WA, WY)
Matt Dillon, Sitka & Spruce – Seattle
Christopher Israel, Grüner – Portland, OR
Andy Ricker, Pok Pok – Portland, OR
Ethan Stowell, Staple & Fancy Mercantile – Seattle
Cathy Whims, Nostrana – Portland, OR
Best Chef: Pacific (CA, HI)
Michael Cimarusti, Providence – Los Angeles
Christopher Kostow, The Restaurant at Meadowood – St. Helena, CA
Daniel Patterson, COI – San Francisco
Richard Reddington, Redd – Yountville, CA
Michael Tusk, Quince – San Francisco
Best Chef: South (AL, AR, FL, LA, MS)
Zach Bell, Café Boulud at the Brazilian Court, Palm Beach, FL
John Harris, Lilette – New Orleans
Christopher Hastings, Hot and Hot Fish Club – Birmingham, AL
Tory McPhail, Commander's Palace – New Orleans
Stephen Stryjewski, Cochon – New Orleans
Best Chef: Southeast (GA, KY, NC, SC, TN, WV)
Hugh Acheson, Five and Ten – Athens, GA
Craig Deihl, Cypress – Charleston, SC
John Fleer, Canyon Kitchen at Lonesome Valley – Cashiers, NC
Linton Hopkins, Restaurant Eugene – Atlanta
Edward Lee, 610 Magnolia – Louisville, KY
Andrea Reusing, Lantern – Chapel Hill, NC
Best Chef: Southwest (AZ, CO, NM, NV, OK, TX, UT)
Bruce Auden, Biga on the Banks – San Antonio
Bryan Caswell, Reef – Houston
Saipin Chutima, Lotus of Siam – Las Vegas
Tyson Cole, Uchi – Austin, TX
Ryan Hardy, Montagna at the Little Nell – Aspen, CO
2011 James Beard Foundation Who's Who of Food & Beverage in America Inductees
Jonathan Gold
Writer, LA Weekly
Los Angeles
Lee Jones
Farmer/ Owner, Chef's Garden
Huron, OH
Charles Phan
Chef/Owner, The Slanted Door
San Francisco
Frank Stitt
Chef/Owner, Highlands Bar and Grill
Birmingham, AL
Nick Valenti
CEO, Patina Restaurant Group
NYC

2011 James Beard Foundation America's Classics Awards Presented by The Coca-Cola Company
Restaurants with timeless appeal, beloved in their regions for quality food that reflects the character of their community. Establishments must have been in existence at least 10 years and be locally owned.
Chef Vola's
111 South Albion Place
Atlantic City, NJ
Owners: Louise Esposito, Michael Esposito, Michael Esposito Jr., Louis Esposito
Crook's Corner
610 West Franklin Street
Chapel Hill, NC
Owner: Gene Hamer
Noriega Restaurant and Hotel
525 Sumner St.
Bakersfield, CA
Owners: Linda Elizalde McCoy and Rochelle Ladd
Le Veau d'Or
129 East 60th Street
NYC
Owner: Robert Tréboux
Watts Tea Shop
761 N. Jefferson Street
Milwaukee
President and CEO: Sam Watts
2011 James Beard Foundation Lifetime Achievement Award

Kevin Zraly
2011 James Beard Foundation Humanitarian of the Year
FareStart
Leave a Comment
Posting Policy
Bite of the Best encourages our readers to comment on and review any products that we write about. Please express your opinions in a mature and civil tone of voice. We will not post rude or otherwise inappropriate material on Bite of the Best. We look forward to your comments and reviews!