PAST BITE
December 17, 2008
What it is: Holiday gifts for the food lover on your list
How it comes: Various gifts for food lovers
Where it is: Online or at stores
Who it's for: Those who love to cook and / or entertain
Suggested retail price: $12 and up
Nutrition notes: NA
Category: Holidays


---
Bonnie: And now we present our second half-dozen or so holiday goodies to give your foodie friends. This week highlights food lovers' gifts that can be used for cooking, eating or entertaining.
Bryan: Not all foodie gifts need to be edible. Any good kitchen should be stocked with a plethora of gadgets, goodies and gizmos to bring your next Epicurean adventure to new heights. Here are a few Bites of the Best.
Eric: Some of the favorite things that I have in my kitchen aren't food. The gadgets, gizmos and "widgets" that adorn my cabinets and counter space all have a special place in my heart. This holiday season, we're highlighting the innovative, the practical and the decorative in food lovers' gifts to fit a variety of budgets.
Fusion 16-Glass Stemware Rack with Decanter Holder $35.
Bonnie: A display — or drying — rack that holds up to 16 stemmed glasses and a decanter. Folds for easy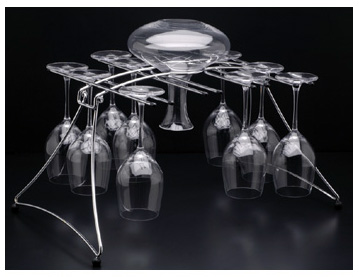 storage. A fun gift for hosts or hostesses who like to attractively display their wine glasses.
Bryan: A perfect gift for the oenophile in your life. Fusion has created the ideal, dual-purpose stemware
storage; a truly elegant display piece and a functional, folding drying rack. Able to hold 16 glasses and a decanter, and at only $35, this is a must-have for any holiday wine-filled gathering!
Eric: I can't tell you how many times, while I've been washing and drying wine glasses, that I've prayed I would not break them (especially when dealing with a true wine enthusiast and his hundred-dollar glassware). This holiday season, give a gift that is practical, simple and elegant in design; truly a must-have for wine lovers.
PlaceTile Designs CheeseTiles $29.95 for a set of 4. PlaceTile Designs PlaceTiles About $35 for a set of 6, depending on design selected. (NOTE: See special discount offered below in the comment section.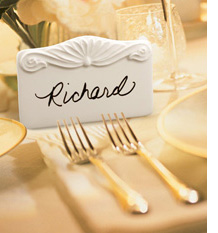 Bonnie: When I entertain, I always set out place cards at my table so that I can mix and match my guests. And I label all foods that might cause someone to ask, "What's this?" These erasable ceramic place cards and cheese labels are prefect for anyone who entertains.
Bryan: The last thing anybody wants during a holiday dinner is a mismatched table. Varying napkin colors are a minor calamity, but sitting ultra-conservative Uncle Bill next to liberal college upstart Cousin Samantha for a drawn-out meal/political debate is another misfortune altogether. Keep your guests properly spaced with these adorable (and useful) place tiles. The cheese tiles also ensure you don't get a mouth full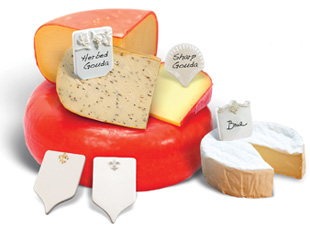 of bleu when expecting creamy goat….
Eric: I've always been a fan of knowing what I'm eating, and there is nothing I appreciate more, in a restaurant or in someone's home, than seeing signage with information about the food or beverage I'm about to consume. In this time of "information lust," people want to know anything and everything; these place tiles are a great way of answering the question, "What type of cheese is that?" without having to stand around for follow-up questions.
Ball Home Canning Basics Kit $49.
Bonnie: This starter kit is for that naturalist on your list who may like to hoard her produce for the cold winter months. The kit includes a canner with a jar rack, the jars and The Ball Blue Book Guide to Preserving to make high-acid foods including: soft fruit spreads, whole fruits, fruit juices, salsa, relish, chutney, condiments, pickles and basic tomatoes.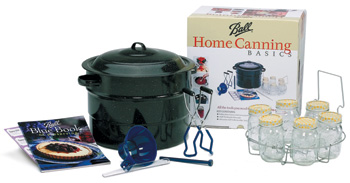 Bryan: Certainly not a gift for everyone on your list, The Ball Home Canning Basics Kit reminds me of a do-it-yourself beer-brewing set; perfect for those ready to roll up their sleeves and get their hands dirty taking part in the creation of their own food, but horrible for those who rely on delivery to make dinner nightly. Choose this recipient wisely, or expect canned coal from your secret Santa.
Eric: In a time of growing concern for what we're eating and how it's being produced, give the gift that helps to alleviate that worry. Create your own sauces, grow and preserve your own vegetables or start your own business. Canning is making its slow return, and I'm sure there's a friend on your list who will enjoy this product.
Carol Fountain Nix Coaster Set $25 for a set of four coasters. Carol Fountain Nix Square Serving Plate $12 for an 8-inch serving plate in one of four different wine designs.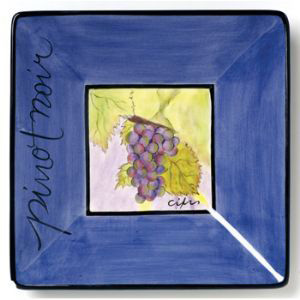 Bonnie: Attractive enough to use as art, or for serving. A great gift for almost anyone on your list.
Bryan: A great gift together as a set or as separate pieces. These artistic coasters and serving plate display hand-painted grape scenes. They are a colorful and delightful addition to any table, especially in a home where the "grape juice" is free flowing!
Eric: Beautiful design is simple, yet elegant, artwork. A great gift for any wine enthusiast, or a friend who simply loves to entertain.
Lagostina Soup Pot with Ladle. $139.95 for 4-quart capacity.
Bonnie: For that special someone, a mirror-finished pot with an aluminum core throughout its heavy-gauge stainless-steel bottom and sides providing fast, uniform heat conduction. That, and beauty, too.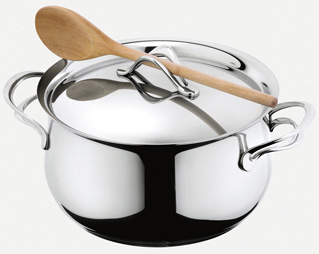 Bryan: Though a bit pricey at about $140, this soup pot is an elegant addition to any home's stovetop. There are a few pieces that never leave the kitchen counter (e.g. my teapot and cast-iron griddle), as they are too pretty to store — but this may be the pretty-boy of them all. Almost a shame it heats so well; I'd never want to sully it.
Eric: I fell in love when I first saw the design of this soup pot. It is an amazingly elegant piece that will not only serve its main purpose in making soups or stocks, but will act as a centerpiece on the table when serving meals. Flowers and candles are unnecessary when this pot is on the table. Every chef would love this as a gift.
The TeaSpot Steeping Mug $21.95 for a 16-ounce porcelain steeping vessel, available in sky blue, red rock or black.
Bonnie: For the tea lovers who enjoy steeping their brew from loose tea leaves.
Bryan: Any tea-drinker would be ecstatic to find this present buried in a stocking. The three-piece system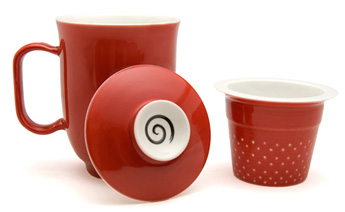 allows for loose leaves to properly steep in a hidden porcelain mesh. The 16-ounce mug allows you to enjoy the smells and warmth of the brewing process right in your hands… perfect for the cold holiday season!
Eric: The pinnacle of gifts for the tea enthusiast. Not many Starbucks drinkers will appreciate this steeping mug; it is truly for the hard-core tea drinker. The brewing system allows for loose tea leaves, meaning that creating your own holiday spice tea is easy. Practical and well-priced.
5 Comments on "Holiday Food Lovers' Gifts – 2009"
Kristin Bowen Says:


Thank you Bonnie, Bryan and Eric for writing about our PlaceTiles and CheeseTiles! I was just made aware of your kind review. I would like to make available to your readers a 15% off discount when placing orders on our website http://www.placetile.com. This discount is good until January 10, 2009. They can use the coupon code BTB09 at checkout.
Happy Holidays and New Year to all!
Kristin Bowen, owner and designer at PlaceTile Designs

Hank Fuller Says:


hi

good luck

mrakiec Says:


The Tea Spot steeping mug is where it's at! i would definitely recommend this for any tea enthusiast who agrees that loose leaf is the best way to enjoy a cup at their own convenience. I also recommend this to newbie's as a great way to begin their journey into tea enlightenment. Great for the office or dorm room. You can purchase two sizes, i would go with the larger which provides ample room for a decent cup of tea. the tea spot mug is artisan inspired, 100% porcelain ceramic and comes in a few different colors. The Tea Spot is a pro eco-friendly company donating a percentage of sales to 1% for the planet, as the package indicates.

pamwillacker Says:


I love the cheese tiles – i've been looking for something like that! I alway have to save the packaging to keep referring back to everytime someone asks "mmmm, what cheese is this?" An inexpensive gift idea i recently saw at a dinner party was a can of blatter blaster in a wine bag…it's organic pancake batter in a spray bottle . Pretty clever and definitely cheaper than wine!

Dr. Al Sears Says:


It's the stuffing and the potatoes that pack on the holiday pounds. The bottom line is insulin and how much your body makes. Starchy foods like bread and potatoes send your blood sugar through the roof, triggering waves of fat-producing insulin. – Dr. Al Sears MD – Health and Wellness
Rate This Product
Mouseover the crowns to highlight your rating and then click to record your rating. The rating shown is the average of all the user votes. You can only rate each product once.
Leave a Comment or Write a Review
Posting Policy
Bite of the Best encourages our readers to comment on and review any products that we write about. Please express your opinions in a mature and civil tone of voice. We will not post rude or otherwise inappropriate material on Bite of the Best. We look forward to your comments and reviews!