The smell of burgers on the grill is what drew us to the Good Burger as we were walking around the Flatiron district.  That and that fact that we were hungry! My friend mentioned that Good Burger was a c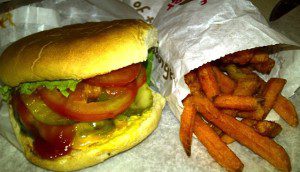 hain with many location around the city. Not having experienced it – I said, "Let's try it!"
Disorganized, is the word I'd use to describe the service. My burger arrived sans fries –the person plating things forgot them, and had to dig through the trash (yes, trash) to find my ticket. Once she did, she handed me a closed packet of fries and I carried my meal to my seat.
"Nice!" I said, as I poured the orange-colored fries onto the paper-covered metal tray as I realized my fries were sweet potato ones. My dining companion looked at the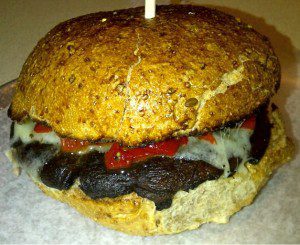 menu and mentioned that it had no mention of sweet potato fries. I went back to the counter, showed them my receipt listing fries, and got another bag filled with the regular fries I had ordered.
So much for organization!
To be fair, the burger, the fries (both sweet potato and regular) and the portobello mushroom sandwich, the latter topped with melted cheddar,  roasted red peppers and a basil pesto on a whole what bun ($5.97) were both delicious and hit the spot. That and each of our lunches was under $10!
– bonnie
Follow @BonnieBOTB