PAST BITE
February 4, 2009
What it is: A trivia game for food lovers
How it comes: Six individual game boards with over 1000 trivia questions
Where it is: Bookstores and amazon.com
Who it's for: Anyone who loves food and enjoys trivia games
Suggested retail price: $18.95
Nutrition notes: NA
Category: Just for Fun


---
Bonnie: As a reader of our Bites, you know that each week we've promised to provide "outstanding products we've tried and recommend." This week's no different, although our selected FeaturedBite is neither food nor something found on your kitchen counter nor in its drawers. Instead it's a game, one that came to my attention as part of a holiday gift from my friend (and client) Robin Miller (Food Network's Quick Fix Meals).
Foodie Fight is a fun trivia activity created by Joyce Lock for serious food lovers. Joyce, btw, entered the food business late in life, getting her master's in gastronomy from Boston University when she was 55. We're thrilled to have her in our fun business! Joyce's game is unlike the other so-called food games I've tried.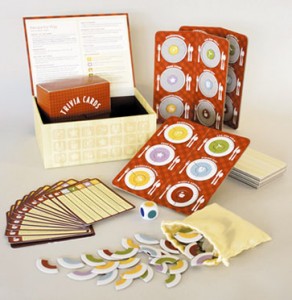 I say "so-called" as the others I've tried do not contain the intelligent questions found it this one. In fact, I wrote about the initial one (not her game) in Parade's "What America Eats" issue in 2005, not because the game was good (far from it) but because someone had finally produced a trivia game containing food questions. That game contains offbeat questions about cookies, candy, snacks and desserts — ones that even food mavens or historians would find difficult to answer. "Frustrating" is the word that came to mind while playing.
Not so with Foodie Fight.
Foodie Fight not only entertains, it educates. The more than 1,000 questions are smart, informative and fun, spanning six categories: Foodiesphere (food people, world cuisines and food places), Food Stars (food on film and in print, music and art), Company's Coming (party planning, table etiquette, and wine and food pairing), Lab and Field (cooking science, nutrition and food production), Dining Out (eateries, chefs, menu matters and restaurant service) and What's Cooking? (cooking techniques, tools and ingredients). For instance:
What began as a Native American trading post on the Mississippi River and is recognized as the oldest continually operating public market in the Unites States? (The French Market, New Orleans) in Foodiesphere
What method of cooking is featured in Brazilian restaurants called churrascarias [shoo-rahs-kah-REE-ahs]? (Barbecue) in Lab and Field
Which is the average distance conventional food travels from farm to table — about 500 miles, 1,500 miles, or 3,000 miles? (About 1,500 miles) in Dining Out
My only complaint about this game is that the colors on the die are hard to distinguish—especially in dim party lighting. I'd recommend in the next printing that they add the symbols used on the cards to the colors.
I plan to challenge the boys to a match during our family ski outing later this month. Let the competition begin!
Bryan: This may be the first non-food item (kitchen gadgets aside) I can remember on Bite of the Best, and it's a particularly exciting product for our family. I can't say I'm much of a game player. Beyond cards (poker especially), my taste for board games is generally rather bland, the only major exception being Trivial Pursuit. And I must say, if there is one thing in our immediate, and extended, family that will get the passions inflamed and blood boiling, it's Trivial Pursuit. We have a very competitive family, and the battle of choice quite often happens to be over little trivia pie-pieces.
If you are a Trivial Pursuit enthusiast, as we are, take everything you know and love about that game and add everything you never knew (or thought you knew) about food. Now you can begin to understand how excited I was when Foodie Fight appeared at my door last week.
The game components are rather simple; trivia cards, player boards, game pieces and a colored die… all packed into a little box with a clever little magnetic clasp. The game is played just as "pursuit," with players answering questions to earn tokens against other teams or individuals. With more than 1,000 questions on topics ranging from culinary science and celebrity chefs to food history and exotic cuisine, each player's epicuriosity will certainly be put to the test.
I can't imagine a better way to spend a car ride or a lazy Sunday afternoon. In what direction is soup spooned when eating? And where could you see a cow sculpted from 550 pounds of butter every August? Inquiring minds want to know…. I certainly want to know!
What better praise can you heap than from names like these:
"Play this fun game after your next dinner party. The losers have to wash the dishes!" — Mario Batali
"Finally, a trivia game that I am interested in and knowledgeable enough to play!" — Jacques Pépin
Eric: If Johnny challenged the devil with a fiddle, my weapon of choice would be "Foodie Fight."
Whenever I play the board game Trivial Pursuit, I am always anticipating that my next question will be food-related. Food and beverage is not my only area of expertise, but it is the one area in which my knowledge far surpasses that of the omniscient trivia player (or for that matter, any one of my aunts). The game's slogan says it all: "A trivia game for serious food lovers.
From knowing how many bubbles are in a bottle of Champagne, to which vegetable has the highest sugar content, Foodie Fights will keep even the greatest of food aficionados hungry for more.
2 Comments on "Foodie Fight: A Trivia Game for Serious Food Lovers"
ssrichard Says:


Perfect timing! I am in need of a giftie for a foodie niece. I'm off to Barnes & Noble right after work. Thanks!

PS. I finallly made Pad Thai on your long-ago recommendation. it passed the husband test as well as mine — I'll be making it again soon. Yum!

Susan Mitchell, PhD, RD Says:


Hi Bonnie,

I agree. I have used Foodie Fight in large classroom situations and it is a lot of fun and a great way to educate.

Susan Mitchell, PhD, RD
Rate This Product
Mouseover the crowns to highlight your rating and then click to record your rating. The rating shown is the average of all the user votes. You can only rate each product once.
Leave a Comment or Write a Review
Posting Policy
Bite of the Best encourages our readers to comment on and review any products that we write about. Please express your opinions in a mature and civil tone of voice. We will not post rude or otherwise inappropriate material on Bite of the Best. We look forward to your comments and reviews!