April 12, 2017
Varieties: Contigo, El Fumador, El Macho
Details: $32.99 - $49.99 per 750 ml bottle
Availability: Nationwide

Why not start my dinner parties with a tequila tasting, I thought, as I received a bottle each of Don Sebastini & Sons Contigo, El Fumador and El Macho. The tequilas are made from the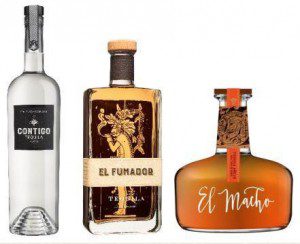 fermented juice of the Blue Weber agave plant, grown and bottled in Mexico.
We started by sampling the newest (blanco) and ended at the oldest (añejo). Like a wine tasting, we checked the color and the aroma,  let the liquid coat our tongues before swallowing, and then breathed out.
We found the Contigo (blanco) to be smooth with fruit flavors. The wood-aged El Fumador (resposado) was our least favorit; it burnt the tongue. Everyone liked the citrusy El Macho (añejo) with its very long finish.
- bonnie
BonnieBOTB
Follow @BonnieBOTB

Leave a Comment
Posting Policy
Bite of the Best encourages our readers to comment on and review any products that we write about. Please express your opinions in a mature and civil tone of voice. We will not post rude or otherwise inappropriate material on Bite of the Best. We look forward to your comments and reviews!