TIDBITE
October 10, 2013
David's Chinese Restaurant is a hole in the wall, mom and pop restaurant, worth the visit. You'll get freshly made, really inexpensive and plentiful food, not smothered in unrecognizable sauce!
The woman owner who serv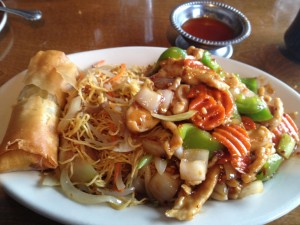 es, wants you fed and happy. One of my group didn't want the hot and sour soup – but she insisted, and brought it out anyway. She's a bit hard to understand with her thick Chinese accent, but she means well. She had a difficult time believing I really wanted something spicy resulting in my dish being tasty but screaming for spice. She obliged by bringing me hot chili peppers to mix in.
My plentiful combination ($8.99) came with soup, a crisp spring roll, pork chow mein and hot & spicy chicken.  A worthy visit that won't break the bank.
- bonnie
David's Chinese Restaurant
828 Adams ST
McMinnville, OR 97128
(503) 434-6788

Leave a Comment
Posting Policy
Bite of the Best encourages our readers to comment on and review any products that we write about. Please express your opinions in a mature and civil tone of voice. We will not post rude or otherwise inappropriate material on Bite of the Best. We look forward to your comments and reviews!