FEATURED BITE
October 9, 2012
What it is: David Guas, Chef / Owner, Bayou Bakery, Coffee Bar & Eatery in Arlington Virginia
Category: Guest Foodie


---
Who: David Guas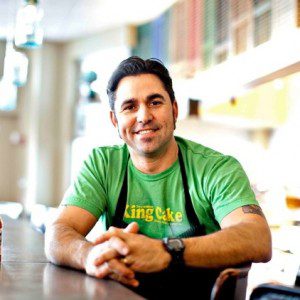 , Chef and Owner of Bayou Bakery, Coffee Bar & Eatery,  Arlington, VA
Website: www.bayoubakeryva.com
Twitter:@bayoubakery
Facebook:/bayoubakery
Although I've known his wife,  Simone Rathle, a public relations professional, for decades, I hadn't met David until I solicited him to be a BOTB Guest Foodie. David is a self-taught self-starter who sets his mind to achieve a goal and does it. 
With no formal pastry training, David talked his way into a job working in the pastry department of the Windsor Court Hotel in New Orleans. After a couple years, Jeff Tunks — the then-executive chef — asked Dav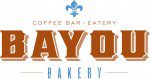 id to join him in opening D.C Coast as its pastry chef. He stayed with that group for about a decade and helped open five restaurants before penning a cookbook (the James Beard-nominated "DamGoodSweet: Desserts to Satisfy Your Sweet Tooth, New Orleans Style"), and then opened his own place, Bayou Bakery, Coffee Bar & Eatery.  David  describes his place as "funky, not grungy, with a touch of elegance. Like a New Orleans hole in the wall but without the dirt."  There he serves one special of his native NoLA cuisine each evening: that might be gumbo, étouffée, jambalaya, shrimp creole or red beans and rice.
- bonnie

Which specific food product or gadget would you never give up? Why? Cayenne pepper. Being from New Orleans, people always think that our food is supposed to be hot. Now I like a little heat with all my dishes, but naturally our food isn't hot, not until you add the spices or hot sauce. For me, when adding spice, I want to make sure I am enhancing the flavor, not obliterating it. Cayenne gives a gentle after-burn deep in your throat, a little kick, and adds layers of flavors rather than setting your tongue on fire. My Aunt Boo taught me that you only need cayenne, salt and pepper to add depth to a dish — with cayenne as the leader — and I'll stick with that trinity to my grave.
What do you like to serve when you entertain?  No matter where you're from in New Orleans, Pimento Cheese and Triscuits make their way onto every party buffet table in the city. Everyone's got their own recipe for the Pimento Cheese, but it can't be served with anything else but Triscuits—just wouldn't be right. Serving the dish now in Arlington, VA, is fun because you have enough Southerners around to appreciate the tradition and flavor, but also plenty of Yankees to introduce it all to.
I also like to serve small turkey meatballs. My wife and kids love using ground turkey over beef as it makes it slightly healthier without all of the fat. Passed hors d'oeuvres can be ever so overwhelming with rich flavors and calories, and it's important to give variety. People can easily pop 'em in their mouths without a whole lotta fuss, making them perfect appetizers, and packed with flavor from fresh herbs and seasonings.
Describe your "last meal?" Hands down, a boiled crawfish feast with Boudin Sausage and an ice cold beer – and throw in a shot of bourbon. For a New Orleanian, I don't think I need to say much else. Ain't nothing better than pinching the tail and sucking the head off of a fresh, juicy, meaty mudbug, covered in all of those good Cajun spices. Doesn't hurt that you can only get 'em good a few months in the year, making them even more desirable [guess I better go between May-July]. The Boudin is just an added personal touch: it's backwoods cooking at its finest, and spread over Saltines, it's simply the best. You would think I am crazy for not mentioning a dessert, but you did say last. So it's last to the meal. It would have to be banana pudding.
What food is your secret guilty pleasure? Even though I am a pastry chef at heart, I'm not a snob. Some things are just better right out of a store-bought package, and Oreos are one of them. I have a hard time walking away from an Oreo. Add a glass of milk to the equation? Oh man, it's impossible. I have been known for stashing a roll of the chocolate and vanilla cream cookies in my freezer. First, to hide 'em from my boys, and then to enjoy after 12 hours on my feet at the eatery, when I come home looking for something sweet. Sometimes I remember and other times I choose to forget.
What is your go-to neighborhood restaurant, and why? Joe's Burgers in McLean, VA. They're close to home, which is always a perk when you've got hungry kids, but I also know I am always going to get a quality burger every time I go. Joe's Burgers grind their meat in-house, have great buns, and just feature really composed burgers. The flavors are all chef-driven, which puts 'em over the edge from your run of the mill burger joints—and the meat is always cooked perfectly. My pick is the Butcher's Choice, with horseradish mustard, caramelized onions and a smoked mayo. They also serve straight-up service: nothing fancy, nothing stuffy, just right.
What is one food product most people don't know about, but should?  One of my secret weapons as a pastry chef is Demerara Sugar. It's a natural brown sugar, and has essentially the same sweetening ability as normal refined sugar but maybe a slightly different taste. It also is commonly referred to as healthier than white sugar [but who's really counting when you're eating sweets?] What I like about Demerara Sugar is it does not liquefy or break down like other granulated sugars, so it adds a great crunch and texture to cookies, breads and other baked goods. Just sprinkle a few grains over the top of unbaked items right before they head into the oven, and you're good to go.
Photo credit: Scott Suchman
One Comment on "David Guas"
Miriam Rubin Says:


Great post, Bonnie. I have long wanted to go to Bayou Bakery but haven't yet been there. His Bayou Bakery Muffaletta was just awarded a sandwich prize.
Rate This Product
Mouseover the crowns to highlight your rating and then click to record your rating. The rating shown is the average of all the user votes. You can only rate each product once.
Leave a Comment or Write a Review
Posting Policy
Bite of the Best encourages our readers to comment on and review any products that we write about. Please express your opinions in a mature and civil tone of voice. We will not post rude or otherwise inappropriate material on Bite of the Best. We look forward to your comments and reviews!