After walking around Midtown we stopped at Cypress Street Pint & Plate for an early afternoon snack. We were just up for enjoying a nibble with glass or two or wine while listening to the weekend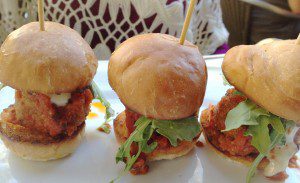 music.
I recommend the three, tender 2-bite meatball sliders topped with fresh arugula and parmesan shreds ($9). Instead of fries, we ordered the trendy Canadian dish of poutine — fries smothered in roasted turkey gravy and cheese curd. We asked Cypress to make ours using their house fries in lieu of the menu state tots ($6.5). Quite filling.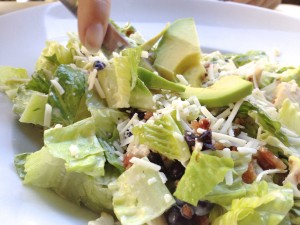 To round out our snack, we ordered the chopped Caesar salad that — in addition to the traditional romaine, Parmesan and croutons — also contained diced chicken, bacon, avocado chunks and black beans tossed in a classic dressing ($10).
We nibbled all these goodies while listening to the the 2-piece blues band that played just loud enough so we could still talk without straining and sipping a Matua Valley, Marlborough Sauvignon Bl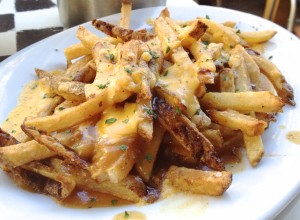 anc, New Zealand, 2009 ($36) with its classic  tropical and citrus fruits and a clean finish.
I recommend stopping by!
Cypress Street Pint & Plate
817 W Peachtree St
Atlanta, GA 30308
(404) 815-9243
cypressbar.com