RECIPES
April 21, 2017
Here's a biscuit recipe from our recent Guest Foodie Chadwick Boyd. If you went to the movies in March, you might have caught his "Reel Food" episode before the coming attractions, featuring a biscuit-making session as well as entertainment tips for hosting a "bacon three ways" bar.
- bonnie
BonnieBOTB
Follow @BonnieBOTB
Parmesan Biscuits with Black Pepper
2¼ cups all-purpose flour, plus more for rolling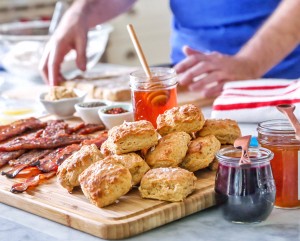 1 tablespoon baking powder
1 teaspoon baking soda
1½ teaspoon kosher salt
¼ teaspoon black pepper
1½ cups grated parmesan cheese
3 tablespoons unsalted butter grated (keep very cold until using) + 2 tablespoons melted to finish
2 cups whole-milk Greek yogurt
2-3 tablespoons milk
Maldon or kosher salt (optional)
Preheat oven to 450°F.
Line a rimmed baking sheet with parchment paper.
Whisk together the flour, baking powder, baking soda, salt and pepper in a large bowl. Add the cheese. Whisk again until fully incorporated.
Add the butter and work into the dough using your hands until it forms pea crumbles. Add the yogurt. Gently mix with hands until the dough starts to come together. Pour the milk one tablespoon at a time until the dough becomes moist but not wet (you don't want any dry pieces in the bowl). You may
not need all three tablespoons.
Place the dough on a lightly floured clean surface and pat out into a rectangle to 1″ thick. Cut the biscuits into 2″ squares using a chef's knife.
Place the biscuits on the baking sheet. Brush the tops with the melted butter. Lightly sprinkle with the Maldon salt.
Bake 14 minutes or until fluffy and golden. Turn the baking sheet halfway through to ensure even browning.
Transfer to a wire rack. Let rest 7-8 minutes before serving.
Makes 12-15 biscuits

Copyright © 2017 Lovely & Delicious Enterprises, Inc.
Photo Credit:  Laura Fuchs
Save
Rate This Product
Mouseover the crowns to highlight your rating and then click to record your rating. The rating shown is the average of all the user votes. You can only rate each product once.
Leave a Comment or Write a Review
Posting Policy
Bite of the Best encourages our readers to comment on and review any products that we write about. Please express your opinions in a mature and civil tone of voice. We will not post rude or otherwise inappropriate material on Bite of the Best. We look forward to your comments and reviews!