Hormel Natural Choice New Deli Meat Varieties - May 17, 2013
Varieties: Sundried Turkey; Cherrywood Ham
Details: $3.99 to $4.49 per 7-ounce package, 14-ounce Family Pack is $5.99.
Availability: Nationally available

Hormel Natural Choice has added Sundried Turkey and Cherrywood Ham as their two newest flavors made without preservatives.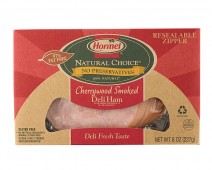 Each 2-ounce serving, or 3-4-slices, contains 60 calories, 0-0.5 grams saturated fat (of 1-1.5 grams total), 440-520 milligrams sodium and 10 grams protein.
Along with these new flavors Hormel has also introduced Family Packs available in Honey Ham, Oven-Roasted Turkey and Smoked Turkey.