Talk about eating and running!
When I was indulging in a Sunday Supper on a Wednesday afternoon recently, Charlie Palmer mentioned his San Francisco-based tavern. He suggested I stop by when on the west coast the following week.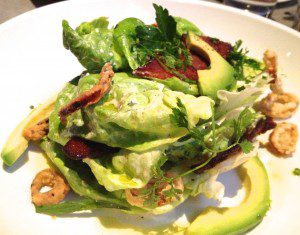 We did so. We stopped in to the Burritt Room + Tavern on our way to the airport. Literally. We told executive chef Lucas Knox that we just wanted to experience a small sampling of his cooking in the hour we had before needing to SFO to catch our plane east.
The table was soon filled with appetizers and salads. The lobster risotto ($22) with spring peas, pea tendrils and huge chunks of lobster in a light risotto was flavorful and rich. We gobbled up the bowl filled with small pieces of chicken livers in a brandied au jus served with g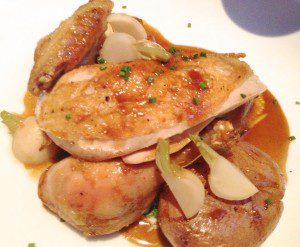 rilled sourdough ($16). It's one of the chef's favorites. Also tasty is the salad of asparagus topped with red frill (a spicy mustard green similar to frisee), tangerine slices and Redwood Hill goat feta, topped with crispy artichoke pieces ($16). But my favorite salad consisted of  butter and little gem lettuces ($14) with crisp Applewood bacon slices, fresh avocado slices and wonderful little crispy shallots (think teeny onion rings) all in a light mayo-based sauce.
We told the waiter we had to go, bu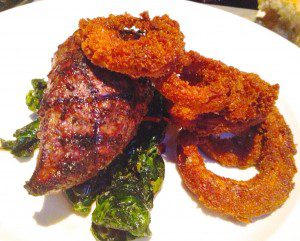 t he said the chef was just putting the finishing touches on the entrees he wanted us to sample. How could we refuse food already prepared?
The Sonoma chicken ($28) was incredibly moist and juicy, and came with smashed red potatoes, creamy watercress, pickled mini turnips all in a chicken jus. The local California halibut was sadly slightly overcooked but sat atop lemon-infused mashed potatoes topped with homemade chorizo, crispy garlic chips and an onion relish ($28). Our favorite was the perfectly cooked teres major ($29) — a very tender cut from t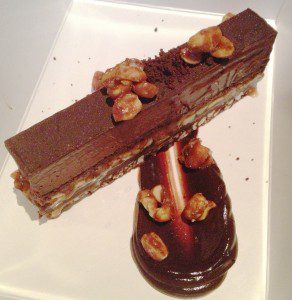 enderloin of beef  — served with sauteed collard greens mixed with piquillo peppers to give it some bite  and crispy sweet onion rings.
As we were running to the airport, the chef handed me his chocolate layer bar ($10) in a to-go box for plane eating — consisting of a bittersweet cremeux, salted caramel with roasted peanuts and pretzels. Yum!
I suggest stopping by the tavern, being sure you have lots of time to savor Lucas Knox cooking, instead of eating and running.
 – bonnie
Burritt Room + Tavern
at Mystic Hotel
417 Stockton Street
San Francisco, CA 94108