The heavy doors of the former bespoke — and short term Gilt — have re-opened as briq, located at 266 College Street.
Under the direction of Executive Chef Mike Hazen, formerly with Barcelona, and whom I like to refer to as "the man who showed me how to properly chop vegetables," is in the kitchen creating delicious, reasonably priced, "global tapas."
briq offers a full bar, with a unique cocktail menu, and is staffed with some fa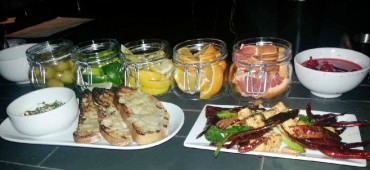 miliar faced, highly-skilled bartenders – which perhaps serves as rumor confirmation that a certain mixology impresario, from a certain popular street-numbered lounge, is involved at briq.
There hasn't been a grand opening yet as they're still getting the restaurant and service staff smoothly up and running. Currently briq is open evenings from 5pm mainly on the first floor level.
As we sat at the bar and ordered cocktails – a tequila and Acai based Royal Margarita ($12) for me, and a traditional Whiskey Sour ($8) for my partner in crime, we were served a complimentary dish of almonds and olives.
The menu, although not extensive, includes a variety of tapas, cheese plates, salads and larger plates. The dessert menu caught my eye when I saw "Adult Birthday Cake ($7) Devil's Food cake, mocha mousse and….a glass of milk!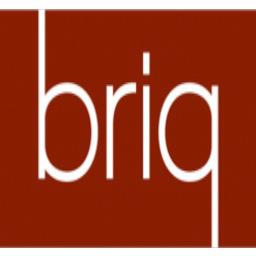 The owner generously sent out some items from the "Favorites" section for us to try. We liked the not too garlicky Burrata Garlic Bread Dip ($8) with grilled crunchy bread; and Szechuan Tofu ($7.50) with chilies, green onion and garlic.  My dining companion took the warning of "don't eat the red chilies" as a dare, which he later regretted. The dish was delicious – not too spicy, and the tofu gave it a nice vegetarian appeal.
We devoured the soft and creamy Lobster Mash Potatoes ($12), so buttery Paula Deen would be proud. The lobster chunks were so huge that I needed to cut it into pieces to savor every bite.
We asked the bartender to create our second cocktail versus ordering from the menu, and after asking us for our favorite spirits and flavor profiles, he created two refreshing beverages for us to end the night with.  Perfect ending to a delicious evening!
briq Restaurnant
266 College St.
New Haven
203-891-7155
www.briqrestaurant.com

 Special Correspondent: Robbin Seipold www.robbinslist.com