TIDBITE
April 26, 2012
Executive Chef Jesus Nunez at GastroArte (141 west 69th, New York City) created such an exquisite luncheon to celebrate the 70th anniversary of Bodegas Farina that I've made a mental note to return to the upper west side for dinner.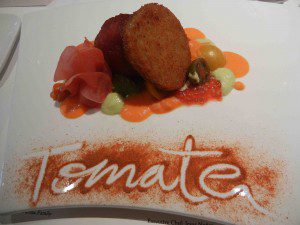 At the luncheon, we first mingled with Manuel Farina and Manuel Farina, Jr — two generations of wine makers — while sampling two of their wines from the Castilla y Leon region: Bodegas Farina Peromato 2011 ($8-10) and Bodegas Farina Gran Peromato 2010 (~$12), the former a 100% Tempranillo, the latter a Tempranillo-Garnacha blend; both medium bodied with some fruit flavors, and such bargains to serve with meats and cheese.
Lunch began with a study of the tomato: tomatoes in different textures and flavors paired with a Bodegas Fa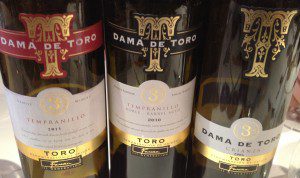 rina Malvasia 2011 ($11; clean, crisp fresh fruit, 100% Malvasia) and Bodegas Farina Primero, 2011 ($12; rich cherry fruit, a blend of Tinta de Toro and Garnacha). Both wines worked with all the fried, dried, poached in sherry vinegar and fresh tomato flavors.
The next course included an artful display of eggp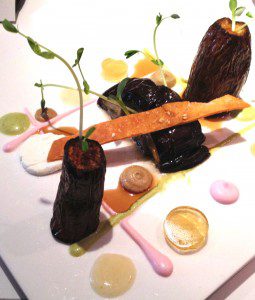 lant with goat cheese discs, wasabi, honey and mustard served with three wines. Dama de Toro Tempranillo 2011 (~$11, blackberry notes) Dama de Toro Tempranillo Roble Barrel Aged 2010 (~$13, a touch of oak) and Dama de Toro Crianza 2006 (~$17, spicy, berry flavor and peppery).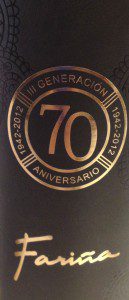 The Osso Buco with an onion date marmalade and Valdeon cheese was matched with Grand Dama de Toro 2006 (~$70) and Bodegas Farina 70th Anniversary 2009 (~$45) …Lucky me, as each of us got a bottle of that full-bodied, well-balanced wine with spicy berry overtones.
And for dessert, we enjoyed many Spanish cheeses along with an incredible bottle of wine, which was dessert itself! – Bodegas Farina 1973.
- bonnie
Follow @BonnieBOTB

Leave a Comment
Posting Policy
Bite of the Best encourages our readers to comment on and review any products that we write about. Please express your opinions in a mature and civil tone of voice. We will not post rude or otherwise inappropriate material on Bite of the Best. We look forward to your comments and reviews!