Online
$29 for the set or $10 for an individual 16-ounce jar
Yellow Roman, Pink Oxhart, Green Zebra
Balakian Farm created a line of organic heirloom tomato sauce, individually hand packed and sealed on the family farm.  Available in Yellow Roman, Pink Oxhart and Green Zebra sauce, the sauce is available through America's Farmstand, a site where organic, all-natural, pure farm-fresh artisanal foods can be shipped directly from independently run family farms.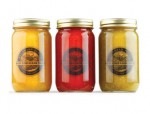 – bonnie: These are not your typical tomato sauces, as they are just blended — not precooked — tomatoes. Use them as a base to create a sauce, soup or mixed dish where you'd cook it further. Or use these flavorful heirloom tomatoes is for your next bloody Mary as Michael's Genuine Food & Drink does in Miami.