CITY EDITIONS
April 7, 2010
Some of NYC's best restaurants are teaming up to benefit GrowNYC's "Learn It, Grow It, Eat It" with an upcoming consumer event, Austria Uncorked – A Date with the Wines of Austria and the Foods of the World.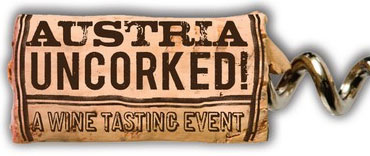 On May 5th, from 6 p.m. to 9 p.m., the Austrian Wine Marketing Board is sponsoring Austria Uncorked, featuring top Austrian wines paired with cuisine from some of NYC's most acclaimed restaurants: Wallsé; Gordon Ramsey's at the London; Seasonal Restaurant; Aldea; KLEE; BLT Prime; 10 Downing Food & Wine; Salumeria Rosi; Telepan; Recette; and 15 East.
Proceeds from the event will benefit GrowNYC's "Learn It, Grow It, Eat It" program — a local education program empowering teens to take control of their health through hands-on gardening, nutrition education, outreach and managing a community farm-stand.
Austria Uncorked will take place on the Tribeca Rooftop, a spectacular 15,000 square foot penthouse featuring panoramic views of the Hudson, Empire State Building, SOHO and Tribeca.
Event: Austria Uncorked
Who: Hosted by the Austrian Wine Marketing Board, top NYC restaurants, Austrian wineries
When:Wednesday, May 5th from 6:00 p.m. to 9:00 p.m.
Where: Tribeca Rooftop, 2 Desbrosses Street, New York, NY 10013
Why: Try Austrian Wine paired with NYC cuisine. Proceeds to benefit GrowNYC's "Learn It, Grow It, Eat It" program
Cost: $55 in advance; $70 at the door.
For more information: www.austriauncorked.com
To purchase tickets: http://www.bottlenotes.com/event/austria-uncorked

SPECIAL OFFER : For $10 off  your order, use coupon code  AUSTRIANNYC,
- guest contributor
3 Comments on "Austria Uncorked: A NYC Date with Austrian Food and Wine"
awinegoddess Says:


correct code is AUSTRIANYC for $10 off! See you on the 5th. Prost!

physical therapist Says:


This is such a great resource that you are providing and you give it away for free. I enjoy seeing websites that understand the value of providing a prime resource for free. I truly loved reading your post. Thanks!

Bonnie from BiteoftheBest.com Says:


And thanks for that compliment. Welcome to our Bite of the Best community!
Leave a Comment
Posting Policy
Bite of the Best encourages our readers to comment on and review any products that we write about. Please express your opinions in a mature and civil tone of voice. We will not post rude or otherwise inappropriate material on Bite of the Best. We look forward to your comments and reviews!