TIDBITE
May 10, 2012
The Artisan Restaurant in the Delamar Hotel in Southport, CT is a find!
When you go, walk through the tavern to the back room, as instead of wood the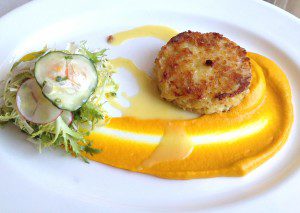 tables are draped in white. It's much more elegant than the front room — and at lunch the menu is identical.
We began with a mostly-crab cake (as it should be) in a swirl of delicate carrot-ginger puree, garnished with a lightly dressed salad ($15). The photo shows only half a portion, as we shared!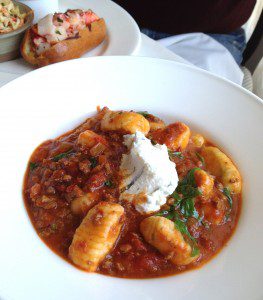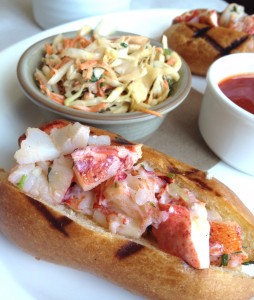 The feathery light goat cheese gnocci in a rich lamb bolognese was topped with creamy whipped ricotta garnished with fresh mint. The over-generous half-order ($16) is more than filling enough.  Although the menu mentioned wilted arugula, that was lacking … my only complaint of this otherwise fabulous dish that I recommend.
My dining partner enjoy twin Maine lobster rolls on brioche, served with crispy fries and refreshing cole slaw ($17). These lobster rolls were CT- (with butter) rather than Maine-style (chilled with mayo).
What we ate was so  filling that neither of us had room for try dessert. Another reason to return to this recommended hotel restaurant.
- bonnie

Artisan Restaurant
275 Old Post Rd
Southport part of Fairfield, CT 06890
(203) 259-2800
artisansouthport.com
Leave a Comment
Posting Policy
Bite of the Best encourages our readers to comment on and review any products that we write about. Please express your opinions in a mature and civil tone of voice. We will not post rude or otherwise inappropriate material on Bite of the Best. We look forward to your comments and reviews!