CITY EDITIONS
February 24, 2011
Created our own menu, per se, while dining at Amuse!, a French bistro in Atlanta.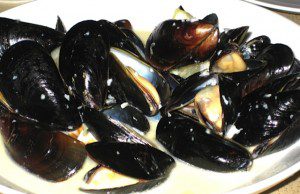 Sharing all the food, we requested that we start with the main course of Steamed PEI Mussels Poulette ($17), followed by a Salade Niçoise ($12), then the Duo of  Duck ($24) and if we still had room, ending with the Les Fromages ($14) cheese plate.
Our waiter accommodated our menu request with perfect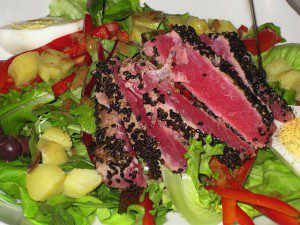 timing.
The mussels weren't very plentiful, but were succulently plump in a delicate white wine, shallot, garlic cream sauce. The kitchen forgot the finishing parsley, but that didn't keep us from sopping up the sauce with the crusty bread, long after the shells were emptied.
Slices of quickly seared ahi tuna coated in black sesame seeds topped some lightly dressed salad greens, red bell peppers slivers, fingerling potato slices, hard-cooked egg wedges, small niçoise olives and capers. Oddly the menu-listed tomatoes and cucumbers were not included.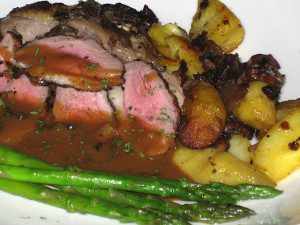 A meaty duck leg confit graced that Duo of Duck plate along with perfectly cooked duck breast, asparagus (with, oddly only 4 pencil thin spears) and rough-cut fingerlings instead of the Gratin Dauphinois that were supposed to be there. We asked for the missing spuds, and our waiter brought the gratin, gratis.
With all these foods missing from each of our dishes and the modest portion of mussels, either the kitchen had run out of food or the chef wasn't back there. That said, what we did have was delicious.
- bonnie
Amuse!
560 Dutch Valley Rd (Cross Street: Monroe Dr)
Atlanta, GA 30324
(404) 888-1890
One Comment on "Amuse!, Atlanta"
Social Submission Says:


Thanks a lot for the blog post.Much thanks again.
Rate This Product
Mouseover the crowns to highlight your rating and then click to record your rating. The rating shown is the average of all the user votes. You can only rate each product once.
Leave a Comment or Write a Review
Posting Policy
Bite of the Best encourages our readers to comment on and review any products that we write about. Please express your opinions in a mature and civil tone of voice. We will not post rude or otherwise inappropriate material on Bite of the Best. We look forward to your comments and reviews!