"Day boat scallops smell fresh, like sweet milk," explained Arturo Franco-Camacho, owner and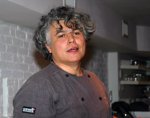 creative chef of Bespoke (New Haven, CT) as he began his demonstration of porcini encrusted sea scallops served with a cauliflower puree, fava bean shiitake ragout and truffle vinaigrette. The demo was the first stop on the "Elegant American & Contemporary French Masters" restaurant tour at the International Festival of Arts & Ideas.
I stood right behind Arturo so I could attempt to look over his shoulder as he cooked. I tried to jot down each and every action so I could share the details. Here goes:
Porcini Encrusted Sea Scallops Served with a Cauliflower Puree, Fava Bean Shiitake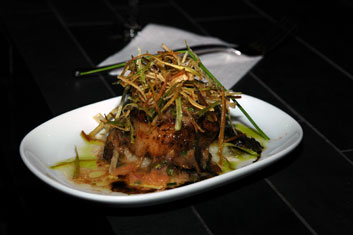 Ragout and Truffle Vinaigrette
Score (make small cuts in) each scallop, season with salt, and sprinkle each side with porcini dust. (For the dust, pulverize dried porcini mushrooms using a clean coffee grinder.) Sear the scallops in a half canola oil and half clarified butter (butter that's been melted and separated to remove the milk solids enabling you to cook with it at higher temperatures).
"I like them medium rare," he said as he placed the seared scallops over a bed of cauliflower puree. Arturo suggested blanching the cauliflower and letting it cool completely before pureeing it. He cautioned not to chill the veggie on ice or the cauliflower could get watery. Arturo suggested thickening it with some cooked potato, if you do end up with a too thin puree.
Arturo tossed the shiitake and oyster mushrooms and fresh fava beans for a quick saute into the hot pan he used for the scallops. Next he made the vinaigrette: he started by adding chopped shallots to the same pan to caramelize them, tossed in some diced peeled and seeded tomato, champagne wine vinegar, Dijon mustard and — the final touch — a few drops of aromatic white truffle oil.
Add a squeeze of fresh lime juice to balance the flavors and/or a pinch of butter to emulsify the warm vinaigrette, he suggested. And always season with salt and pepper. He then tossed in freshly chopped tarragon and chives, drizzled the vinaigrette over the plated food and topped it with frizzled julienned leeks.
Phew!
Arturo mesmerized the tour group with his demo, which was only topped by the tasting of the scallops. Pure heaven.
After typing this up for you, I've decided instead of suggesting you try to make this at home, enjoy this dish along with the hospitality and good service that accompany it at Bespoke.
Bespoke, 266 College Street, New Haven, CT 203.562.4644
Photographs by Robert Hyde